Zhuangdaokou Great Wall Pass is located on the mountain sandwiched by Zhuang Dao Kou Village down in the south and Er Dao Guan Village down in the north. So to cross the Zhuagdaokou Great Wall Pass, we are required to hike south from Zhuang Dao Kou Village, climb up to the mountain valley, pass through the Great Wall through the gateway (Zhuang Dao Kou Pass), then continue to trek on the mountain north of the Great Wall, before we reach Er Dao Guan Village down the mountain.

The walk from Zhuangdao Kou Village to Er Dao Guan Village through the Great Wall pass takes approxi. 1 and half hours.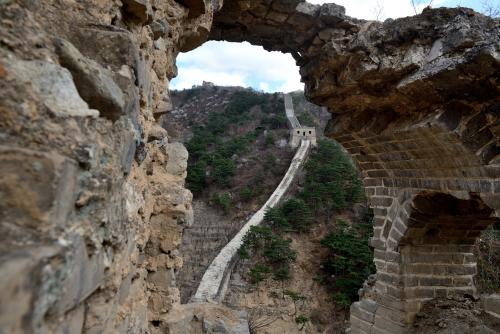 The Great Wall spanning between Zhuang Dao Kou Village and Er Dao Guan Village is part of Huanghuacheng Great Wall. Zhuang Dao Kou Village is located directly at the foot of the Zhuang Dao Kou Pass of the Great Wall ( part of Huanghuacheng Great Wall), hence the name of Zhuang Dao Kou Village.
Er Dao Guan Village literally means "Second Great Wall Pass Village". It is located at the foot of the ancient pass of the second Great Wall paralleling the Huanghuacheng Great Wall to the north. The second Great Wall was built aimed at increasing the defense power of the Huanghuacheng Great Wall in Ming Dynasty.
Accompanied by my co-worker Xiao Hao, I start the maiden hiking trip. We reach the entrance to Zhuang Dao Kou Village at 10:00am. A huge signboard stands at the fork indicating the road to the village on the right side.
Walking along the dirt path in the village. Zhuangdaokou Village is under the juridiction of Jiudu Town of Huairou District, Beijing. Now it has 110 households with 305 villagers.
Passing through the village, we soon find the route up to the pass. The path is quite sandy and stony.
What's Included
Domestic transportation as detailed in the itinerary
Private English-speaking guide 
Experienced Chinese-speaking driver and quality, air-conditioned vehicle
Admission tickets to all sights listed on the itinerary – no hidden costs
Free bottled water supplied in your vehicle
Meals as specified in quality local restaurants
What's Not Included
International flights to and from China
International travel insurance (you should purchase your own policy in your home country)
Accommodation - if you want us to book hotels for you, please let your advisor know either via email: 1935990176@QQcom or add customized requirement while you purchase our tours.
Tips for your guide and driver
Other personal expenses

Notes:
This tour price is for two persons,and the one day tour price is for 8 hours a day, every 2 hours extra will be charged 30 US dollars per person.
Meals may change based on the time and location. You can also ask your guide to change your meals. We will try our best to help you enjoy a variety of Chinese food.
Any questions, just drop a line via 1935990176@QQ.com