1.Peking Man Site at Zhoukoudian
Peking Man Site at Zhoukoudian, about 30 miles (50 kilometers) southwest of downtown Beijing, was a natural habitat of human ancestors about 700,000 years ago. Here multiplied descendants, from age to age, created the splendid Paleolithic Age. To some extent, this is the cradle of Chinese civilization. In this charming and mystical land, Peking man left their footprints. Today, the remains and site provide a good opportunity for tourists to explore the primitive life of our human ancestors.

Zhoukoudian Site of Peking Man is situated on the Dragon Bone Hill. Since 1921, eight sites of ancient human remains have been discovered. 27 localities where high concentrations of fossils were found have been excavated. 118 kinds of animal fossils and over 100,000 stone wares have been unearthed. These fossils and remains serve as evidence of the existence of humanoid species 500,000 years ago in Zhoukoudian Cave.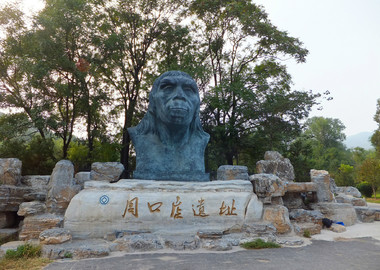 Peking Man Site
Three representative remains include the Peking Man Site, the Upper Cave Man Site and the New Cave Man Site. In 1921, a cave was discovered at Zhoukoudian. Archaeologists confirmed it as the habitat of Peking Man. Today, it is called Locality One or Apeman Cave. In 1929, the discovery of a complete skull fossil by a Chinese Paleontologist, Pei Wenzhong, caused excitement around the world. The skull fossil could be traced back 500,000-700,000 years ago, proving the existence of Sinanthropus .This discovery serves as reliable and convincing evidence for the theory of evolution. Since then, Zhoukoudian has become known as the 'Home of Apeman'. Decades of scientific work and excavation revealed many skeletal fossils of the ancient Peking Man, stone and bone implements and ash residues.
 
Upper Cave Man Site
The Upper Cave Man Site was discovered in 1930 and was excavated in 1933. It is located above the Apeman Cave near the peak of the Dragon Bone Hill. The cave is about 13 feet (4 meters) high and 16 feet (5 meters) wide. Three complete skull fossils and many other fossils were discovered here. Around the skeletons red hematite powder was also discovered. Other finds include bone needles, animal teeth and the remains of necklaces that were used as ornaments. These remains prove the utilization of animal furs to make clothes and to dress themselves to keep warm. According to scientific research, the Upper Cave Man lived about 18,000 years ago with their physical character being quite similar to that of modern man.
 
New Cave Man Site
In 1973, the New Cave Man Site was found in Locality Four, 328 feet (100 meters) south to the Apeman Cave. The New Cave Man lived 100,000 years ago. The discovery of this site bridges the gap between Peking Man and Upper Cave Man, and the succession of Peking Man's evolution. One tooth, fossils of amniotes and other animal fossils were unearthed here.
 
Gezitang Hall
In September 2005, over 100 animal fossils were discovered in Gezitang Hall. Gezitang Hall is located at the entrance of Apeman Cave. Archeologists have confirmed that the fossils discovered are the remains of several species of ancient deer that lived in the Middle Pleistocene Period. Three teeth fossils, several antler and upper jawbones of ancient deer were found.

These cultural relics are very valuable in the study of the origin and evolution of human species. In 1987, the Peking Man Site at Zhoukoudian was inscribed in the UNESCO World Heritage List. A park is built on the basis of Zhoukoudian Peking Man Site in recent years. Visitors can learn about the long history of human beings as they climb the mountain. The game house in the site park is a great place for children to experience hunting and collecting activities, providing them an opportunity to learn about our ancestors.
 
Zhoukoudian Site Museum
Standing on the hill you will see a grand modern building. That is Zhoukoudian Site Museum, about ten minutes' walk from the site park. It was opened to the public in 2014. Upon entering, you will see a tall 'Peking Man' statue with prey on his shoulder and a stick in his right hand. Behind it is a long scroll painting that vividly shows the life of Peking Man. The museum exhibits over 1,600 pieces of relics across three floors. Those exhibitions mainly include fossils of the Peking Man and other animal bones, demonstrating the origin of creatures in prehistory and the transition from ape to human. Among those relics, the no. 3 skull model is especially eye-catching. It is the model of the first skull of Peking Man discovered in Zhoukoudian in 1929.

The museum also houses a 4D movie theater, where films about primitive life of our ancestors are shown. With an interactive zone, the museum is instructive and entertaining. Stand before an interactive device and wave your hands as it guides you, you will see a primitive counterpart. Besides, in front of every exhibition hall, there is a touch screen which gives detailed information about the relics.
2.Stone Flower Cave (Shihua Cave)
Stone Flower Cave, Beijing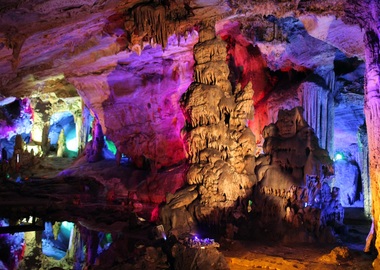 Located in Fangshan District, Stone Flower Cave, also known as Shihua Cave or Shihuadong Cave, is a national famous scenic spot and geological park which is noted for the unique Karst cave sightseeing and a valuable informational bank on geological research.
Originally it was called Qianzhen or Shifo Cave, names given it by the wanderer monk Yuan Guang during the Ming Dynasty (1368 - 1644). Stone Flower Cave thus became famous from then on. Covering an area of about 1.8 Hectares, it is a multilayer Karst cave with seven clearly distributed layers. The first to the sixth layers are the scenery area and the seventh layer is the underground river. There are twelve huge "halls" which are interconnected with countless narrow passages, sixteen 'chambers' and 71 'branch caves' in many sizes and shapes.
The inside is a fairyland on earth. You will be amazed at nature's creativity. All of the features are made of stone: fantastic stalactites, stalagmites, curtains and, flowers. Everywhere is full of the sound of water dripping "Di Di Da" which is composed into delightful music. Stalactites and stalagmites are growing until one day they meet. The milk white stone 'Yue Nai Shi' is a wonder in it and a national treasure. It comes in many shapes such as stone lotus and mushroom.Stone Flower Cave
What's more, the Silver Fox Cave is worth visiting. It was discovered and developed in 1991. Composed of eight halls and over 40 scenic sights, it is an amazing gallery presenting changeable scenery. There is a rare stone regarded as national treasure. It is in the shape of snow leopard's head and silver fox's body. The whole body of it 'grows' snow-white sharp hairs, crystal clear and glittering. The miniature landscapes in it are full of variety.
It keeps a constant 55.4F temperature in all four seasons. The cool and gentle breeze in it bring fresh air to visitors. It is a great place for sightseeing and refreshing the mind.  
3.Yunju Temple
The Yunju Temple lies seventy kilometers (43.5 miles) from Beijing downtown, Fangshan District. Backing on the Shijing Hill, it covers an area of over seven hectares (about seventeen acres). The temple itself, the caves with stone sutra inscriptions and a cluster of ancient pagodas make it a Buddhist Mecca and the temple preserves the most stone sutras in caves in the world.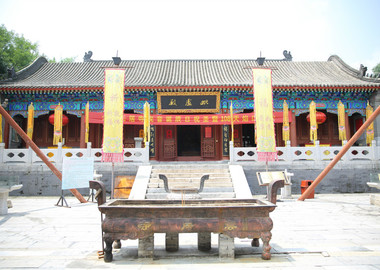 It was first built in the transitional period from the Sui Dynasty (581-618) to the Tang Dynasty (618-907). After much restoration during later dynasties, it revealed a sense of grandness. Six main halls stood on a central axis, comprising five enclosing courtyards. Wing halls, monk's dormitories and elegant pagodas are spread out in an orderly fashion. The temple was bombed and almost totally destroyed in 1942 during Japanese invasion of China. The current temple regains its elegant demeanor following reconstruction in 1985 and 1998.

The temple is renowned for its sutras on paper, wood and stone. The 'Paper Sutra', totaling more than 22,000 scrolls, was written and printed in the Ming Dynasty (1368-1644). The story goes that an eminent monk wrote one of those sutras with his blood to show his piety to Sakyamuni, father of Buddhism. The sutra on wood, called Long Zang (Dragon Tripitaka), containing over 77,000 pieces, was carved from 1733 to 1738 of the Qing Dynasty (1644-1911). This sutra is one of the two Tibetan Tripitaka books in Chinese, with the other named Korea Tripitaka kept in Korea.

The sutra inscription on stones in caves of the Shijing Hill is truly a spectacle. The engraving work began early in the year 605 of the Sui Dynasty (581-618) and lasted 1,039 years until the Ming Dynasty. Subsequently, 3,572 Buddhist books were carved on the stone, which is a rare feat in world history. There are nine such caves in the hill; the Leiyin Cave being the most significant. Inside the cave stand four pillars, which are sculpted with 1056 Buddha statues. Visitors can see these stone sutras at the underground palace from nine windows. Now, a ropeway is available for visitors' climbing the hill and wanting a view.

The ancient pagodas in the temple are distinctive in style. One in the northeast of the temple is especially important as it was built in the Liao Dynasty (916-1125) and has an unusual and rare body. It is surrounded by four seven-storey small pagodas, built in the Tang Dynasty. Buddha's relics were unearthed from the Leiyin Cave in 1982 and was said to be Sakyamuni's remains after his cremation.
What's Included
Domestic transportation as detailed in the itinerary
Private English-speaking guide 
Experienced Chinese-speaking driver and quality, air-conditioned vehicle
Admission tickets to all sights listed on the itinerary – no hidden costs
Free bottled water supplied in your vehicle
Meals as specified in quality local restaurants
What's Not Included
International flights to and from China
International travel insurance (you should purchase your own policy in your home country)
Accommodation - if you want us to book hotels for you, please let your advisor know either via email: 1935990176@QQcom or add customized requirement while you purchase our tours.
Tips for your guide and driver
Other personal expenses

Notes:
This tour price is for two persons,and the one day tour price is for 8 hours a day, every 2 hours extra will be charged 30 US dollars per person.
Meals may change based on the time and location. You can also ask your guide to change your meals. We will try our best to help you enjoy a variety of Chinese food.