Simatai Great Wall :
Simatai Great Wall MapFeatures: ruined, precipitous, original, preserved
Hiking Area: east section 10 towers, west section 10 towers
Hiking Time: 2 - 3 hours for each section
Hiking Level: intermediate
Cable car: available
Distance: 140km from the downtown Beijing
After simple breakfast, we take a short break before we start our final trek on our 5-day Great Wall hike tour. Our last hike for this morning is focused on the east section of the Simatai Great Wall - 10 towers. 
Actually there are totally 16 watch towers distributed on the Simatai Great Wall snaking the ridge of the steep mountain. The 13th-16th towers are forbidden to hike due to their steepness and treacherousness. 
If you don't have strong legs, you may take the cable car up to an open place close to the 8th tower ( White Cloud Tower ), then climb up or climb down the Great Wall, or again you may choose to take the cable car back to the ground. For most Simatai Great Wall lovers, people prefer to hike up the Great Wall, then take the cable car down.
Travel Tips Simatai Great Wall Map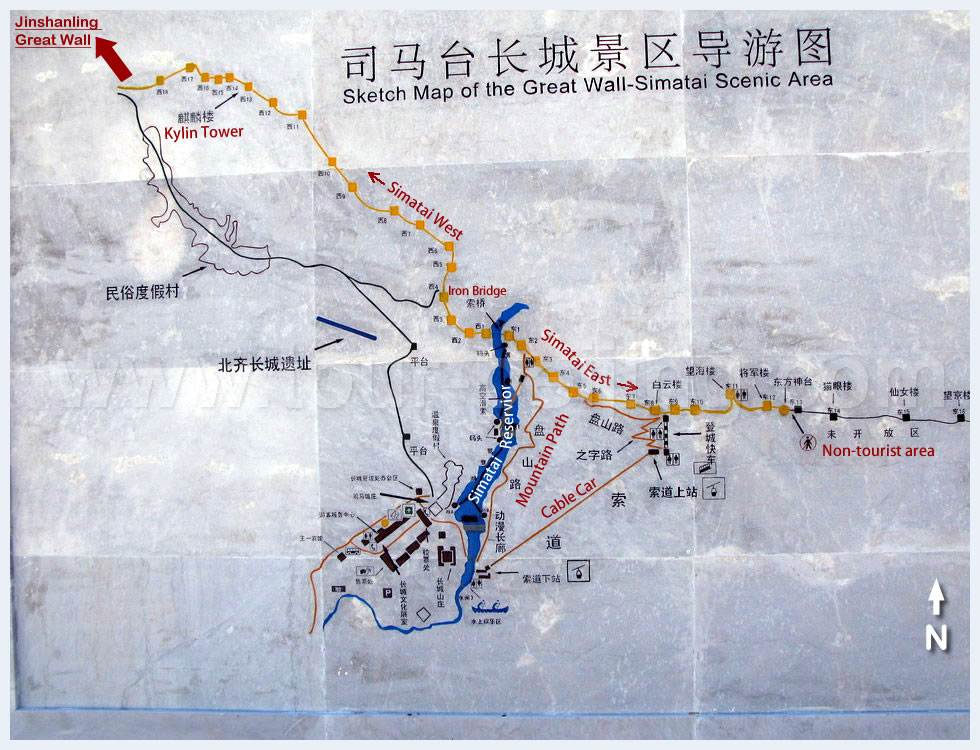 1. Things to take: good shoe wear, sticks, cap, sun-glasses, sunscreen, bottles of water, snacks, pocket knife, lip balm and first aid kit.
2. Use toilets at the entrance of the Wall. No toilets on the hiking route. Please always carry toilet paper.
3. Carry bottles of water in your travel bags.
4. Wear pants and long-sleeves even in summer to hike through jungles and bushes.
5. Be a green and responsible hiker, taking nothing but photos and leaving nothing but footprint.
6. Avoid bad or extreme weathers: rain, storm, lightening and foggy days.
7. Use a local tour guide and a local villager as your guide.
8. Mobile phone. 
Gubeikou Great Wall(古北口长城)is located in Miyun County, 140 kilometers away from downtown Beijing. The main part of the Gubeikou Wall was first built in the Ming Dynasty 1368. It goes for over 20 kilometers and comprises of the four parts: Wohushan, Panlongshan, Jinshanling and Simatai. 

In a narrow sense, today's Gubeikou Great Wall is only composed of two parts – Panlongshan Great Wall and Wohushan Great Wall. "Panlongshan" literally means "Coiled Dragon Mountain" while "Wohushan" literally means "Crouching Tiger Mountain".

Wohushan Great Wall is now still completely wild and unrestored, not officially opened to the public while Panlongshan Great Wall is partially opened by the local government. So when people talk about Gubeikou Great Wall, very often they refer to Panlongshan Great Wall.
The two mountains faces each other with a valley in between from south to north, a strategic passage in the ancient times linking Inner Mongolia and Beijing. Now the valley has been turned into a fast developing Gubeikou Township under Miyun County of Beijing City. 
Gubeikou Great Wall Map
This section has 143 beacon towers. The inside of these towers is different in design. Some towers have a flat ceiling. Some have an arched ceiling, a domed ceiling, or an octagonal. Each tower consists of two floors, six archways, and ten arched doors, allowing garrisoned soldiers to advance and retreat freely. 
Gubeikou has long been a town of military importance and a vital passage to the capital city. The Yanshan Range goes from east to west and is divided at Gubeikou, constituting a natural narrow pass here. To the west of the pass are the Chaohe River and the Wohu Mountain, and to the east is the Panlong Mountain. From ancient times, Gubeikou has worked as a road of strategic importance, connecting the southern and northern parts of the Yanshan Range. 
What's Included
Domestic transportation as detailed in the itinerary
Private English-speaking guide 
Experienced Chinese-speaking driver and quality, air-conditioned vehicle
Admission tickets to all sights listed on the itinerary – no hidden costs
Free bottled water supplied in your vehicle
Meals as specified in quality local restaurants
What's Not Included
International flights to and from China
International travel insurance (you should purchase your own policy in your home country)
Accommodation - if you want us to book hotels for you, please let your advisor know either via email: 1935990176@QQcom or add customized requirement while you purchase our tours.
Tips for your guide and driver
Other personal expenses

Notes:
This tour price is for two persons,and the one day tour price is for 8 hours a day, every 2 hours extra will be charged 30 US dollars per person.
Meals may change based on the time and location. You can also ask your guide to change your meals. We will try our best to help you enjoy a variety of Chinese food.
Any questions or more people to join this tour, just drop a line via 1935990176@QQ.com