Tour Itinerary:
Pick up at your hotel 9am for instance.
First visit National Art Museum of China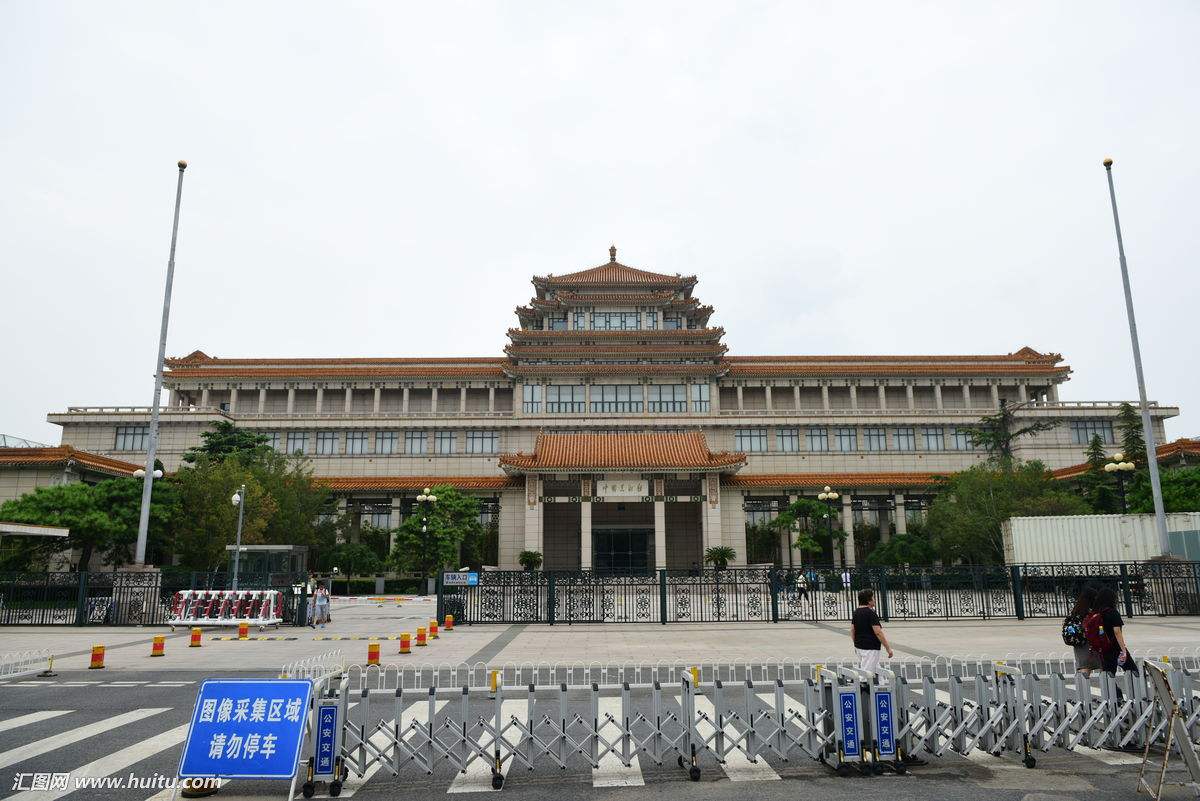 The National Art Museum of China, located in downtown Beijing, was established for the collection, research and display of art. Its main exhibition hall, covering 9,900 sq yd (about 8,300 sq meters), is divided into 17 basic exhibition halls. In each of the five floors, diverse works of art display aesthetic brilliance.

At present, the National Art Museum of China owns over 100,000 art works of various types. The main collections were created around 1949. Works created in the end of Ming Dynasty (1368-1644), Qing Dynasty (1683-1840) and the early period of the Republic of China (1912-1949) are also significant features among the collections. Most collections are outstanding art works created by well-known artists in modern and contemporary times, awarded works from major exhibitions and masterpieces of folk works. Furthermore, over one thousand foreign works are exhibited in it.

Fine Arts
Fine arts collected in the National Art Museum were mainly created by modern artists in China, such as Ren Bonian, Wu Changshuo, Qi Baishi and Xu Beihong, and contemporary artists such as Wu Guanzhong, Dong Xiwen and Luo Zhongli. Their works attract much attention among Chinese people and foreign visitors.

The art collections in this museum appear in many forms, such as oil painting, traditional Chinese painting, fresco, woodcut, print, New Year painting, status, photography and calligraphy.

Qi Baishi (1864-1957), a famous Chinese artist and calligrapher from the 20th century, has created many excellent works. He is known as the "People's Artist of China". In Qi's paintings, the flowers, birds, insects, mountains, water and figures are life-like, and he succeeded in expressing a distinctive art spirit, with which style his works have touched worldwide audience. Qi Baishi has left a large number of masterpieces, the most well-known from door to door being "Shrimp" (1949). In the National Art Museum of China, 337 of Qi's works are collected, such as "Flowers and Insects" (an album of paintings), "Willow in Water Vapor beside Lin Bridge" (1924), "Red Lotus" (1951), and "Farming" (1952).

Another renowned famous master, Ren Bonian (1840-1895), also named Ren Yi, is the representative of modern art history at the end of 19th century. His talent lies in drawing figures, natural landscape, flowers and insects. Famous for his "prudent", "vivid" and "original" painting style, Ren has created paintings which are both refined and popular. There are 201 of his works in the museum. Among these works, "Inquiring in a Peach Garden" is regarded one of the greatest treasures in the National Art Museum of China.

There are many other masterpieces displayed: "Father" by Luo Zhongli, oil painting "Founding Ceremony of China" by Dong Xiwen, oil painting "Occupation of the President's Residence" by Chen Yifei and Wei Jingshan are a few examples of the treasures. Foreign masterpieces are also collected here, including four oil paintings, donated from German collectors, by Pablo Picasso, founder of Cubism.
Paper Cutting
Paper-cut in National Art Museum
National Art Museum of China
Shadow Puppet
Folk Arts
Folk collections are mainly divided into paper-cut, shadow puppet, mask, pottery, kites and embroidery.

Shadow Puppets are distinctive presentations of ancient Chinese people's leisure activities. Figures in the shadow puppets are mainly people of great influence in the history of China or brave and wise people from the operas. Shadow play is performed with these shadow puppets in a manner of opera performance, with singing. Paper cuts present the wisdom of Chinese people who put the experience of their daily life into practice. They are very popular in the rural areas of China, especially in Henan and Shanxi.

The paper cuts present a delicate art form, cut from paper by local people with only a pair of scissors into different patterns to take on diverse flowers, animals or mascots.

Masks are usually used to play operas in different areas of China, particularly for stage performance. Wearing the masks, people disguise themselves to celebrate festivals or give performances in stages.

Embroidery is of Chinese character, first appeared in China. With needles, the silk thread or other fibers are embroidered on a fabric into different patterns, such as mandarin ducks symbolizing eternal love, or flowers representing a happy life. The famous embroidery of China mainly originates from Suzhou, Hunan, Sichuan and Guangdong.
Featured Exhibitions
The National Art Museum of China has a featured practice of holding national and international exhibitions. So far, the most significant national exhibition was the "Lights of Dunhuang" in 2008. The number of visitors to that exhibition broke all records since the opening.

The major international exhibitions held in the past years include: Rural Landscape Painting Exhibition of the 19th Century in France, Original Works Exhibition of Pablo Picasso, Engraved Painting Exhibition of German Expressionism, Art Exhibition of Auguste Rodin, and From Titian to Goya Masterpieces from the Prado Museum.
Secondly visit Beijing 798 Art Zone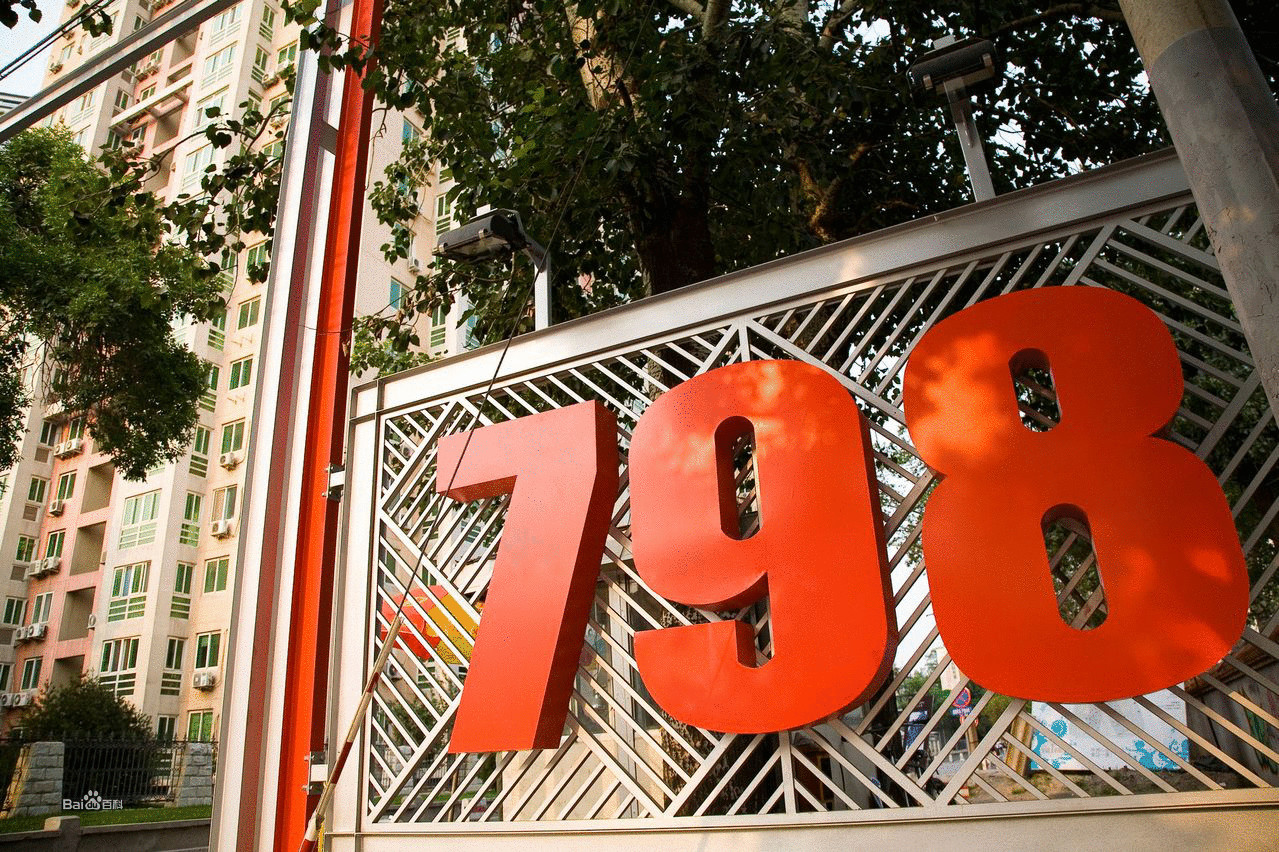 Named after the 798 factory which was built in 1950s, the 798 Art Zone is located in the northeast corner of Beijing. It is also called the Dashanzi Art District (DAD) as it sits in Dashanzi zone. 798 Art District covers an area of 148 acres (60 hectares), with Jiuxianqiao Road to its west, Beijing-Baotou railway to its east, Jiangtai Road to its south and Jiuxianqiao Road North to its north. Characterized by modern art, it has become the exhibition center of Chinese culture and art, and also the world-famous cultural and creative industries centralized area.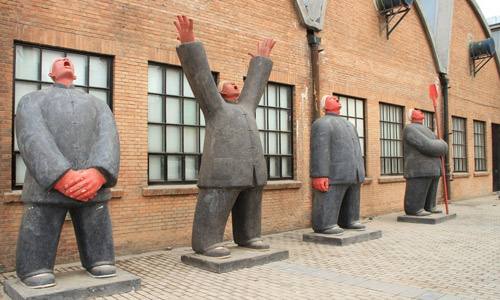 History
The area occupied by the art zone was once the place for North China Wireless Joint Equipment Factory. Afterwards, the corporation moved out of the Dashanzi District and leased those plants (798 factory being one of them). The architectural style, featuring simple design and varied composition, follows the Bauhaus way. Attracted by ordered design, convenient traffic, unique style of Bauhaus architecture, many art organizations and artists came to rent the vacant plants and transformed them. Gradually there formed a district gathering galleries, art studios, cultural companies, fashion shops etc. As the area where the early art organizations and artists moved in was located in the original area of the 798 plant, this place was named 798 Art Zone.
 
Today

Now it has attracted a great deal of attention from the media at home and abroad; and it also has become the new regional mark of the city. Galleries, design studios, art exhibition spaces, artists' studios, fashionable shops, restaurants, bars etc. now assemble here. By January 2008, over 400 cultural organizations, coming from France, Italy, Britain, the Netherlands, Belgium, Germany, Japan, Australia, South Korea, Mainland China, Taiwan, Hong Kong and other countries and regions, have settled down in the zone.

Nowadays, it frequently holds important international art exhibitions and art activities as well as fashion shows. In order to expand the reputation and influence of the art zone and to promote the development of modern art, the zone has held the 798 Art Festival (from the end of April to the end of May) every year since 2006. Another festival is the 798 Creative Art Festival (from the end of September to the end of October). The two festivals focus on exhibition and communication of culture and art.

Many worldwide political figures, movie stars, and social celebrities have not been able to resist the art zone's attraction and have come to pay a visit. Since 2004, Prime Ministers from Sweden, Switzerland, and Austria, ex-Prime Minister from German (Schroeder), the President of European Union (Barroso), the Princess of Belgium's Prime Minister, President of the IOC Rogge, and the Belgium Crown Prince all have come here.

It mainly provides venues for press conferences, fashion shows and other activities. One thing that must be mentioned here is that since the buildings of 798 Space follow the Bauhaus style, the roofs of the buildings are curved serrated, which is even rare to see in Germany.

This restaurant is known for its authentic Sichuan dishes. The chef comes from a little place in Sichuan Province, and his cuisine has an authentic Sichuan flavor. Spiced chicken with a wonderful taste is his specialty.

AT CAFÉ

Italian coffee is featured at this café. The owner Huang Rui believes that his coffee is much better than Starbucks'. Pizza and sandwiches are also good choices.

 Long March Cultural Communication Ce ntre

The owner is Lu Jie, a famous contemporary artist. In this centre, you can see the record of one of his early events in which he led a group of artists following the Long March route and communicating with the local artists. Folk art exhibitions here will also arouse your interest. Paper cuts done by Gao Fenglian, an old folk artist, cover all the walls.

VINCENT CAFÉ (French)

It is the best little family-style restaurant here. The French owner Vincent, who started to learn cooking and management at the age of fifteen in France, used to be the chief manager in a famous French restaurant in the city. He is good at making sweet and savory pancakes. You can choose meat and vegetable filling or ice cream and fruit filling. SHOOTER (three different alcoholic drinks mix in a small cup) is also his spectacular creation.

Many other interesting places are awaiting  you, and the great charm of it only can be felt when you wander here.

Travel Tips
It will take more than twenty minutes to walk around the Art Zone. You can buy a map at galleries or bars, or just wander.
You can either take a taxi or bus to here. However, taxis are not allowed to drive into the zone.
When night falls, the zone is poorly lit.
The art zone provides guide service.  During the art festival, there are also volunteers to be your travel guides.
 

Thirdly visit Beijing Happy Valley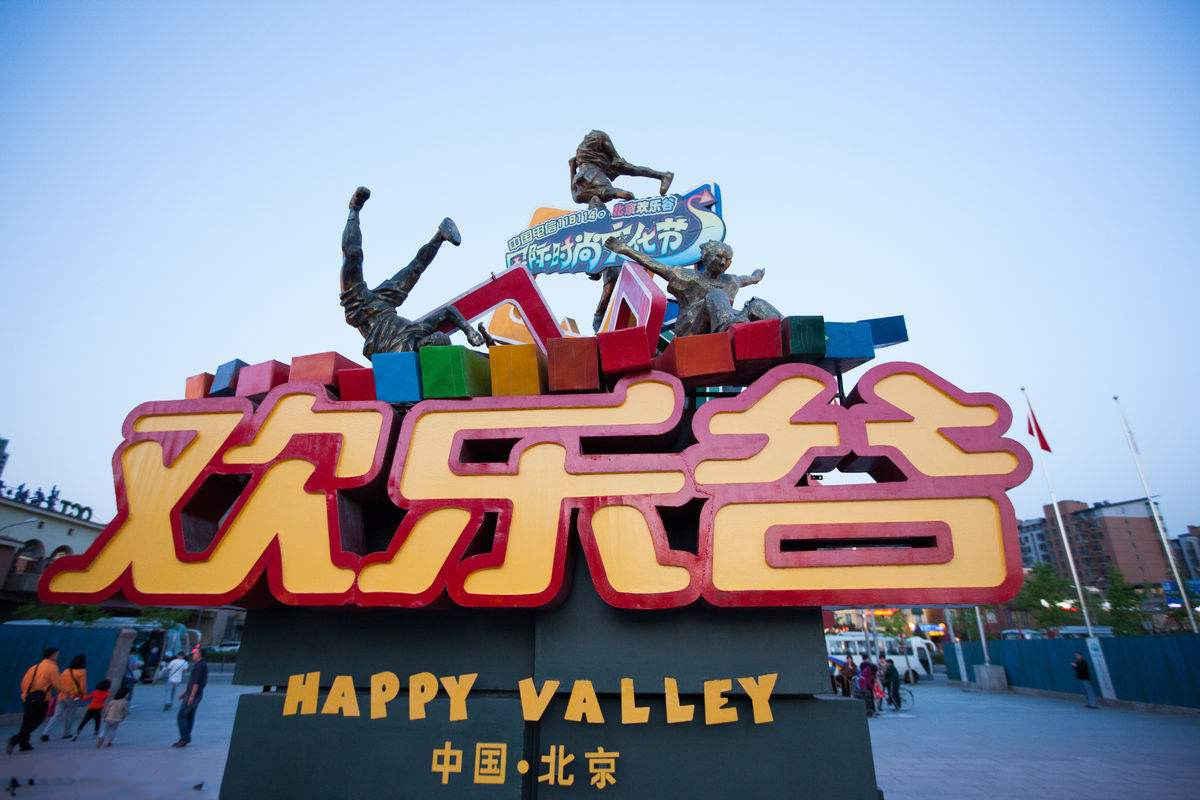 Being tired after making a long journey in Beijing, you may wonder where else you can have entertainment. The Happy Valley can fully satisfy your desire. Located in the southeast corner of Sifang Bridge, on the fourth ring road, in Chaoyang District, it is your happy theme park, another Disneyland in Mainland China. Covering an area of 560,000 square meters, it has been open to tourists since 2006 and attracted a lot of visitors from home and abroad.

Thematic Parks
The Happy Valley is composed of seven theme parks, including Wild Fjord (Firth Forest), Atlantis, Aegean Harbor, Lost Maya, Shangri-La, Ant Kingdom, and Happy Time. Each of them has its own feature, but all of them can fully satisfy your desire of seeking happiness. More than 50 scenic sights of culture and ecology are scattered in all direction, to offer you a rare opportunity to experience the charm of various civilizations regardless of the distance of space and time.

The full extent of the valley is compared to a beautiful artistic picture where you can see tree houses, docks, bridges, towns, ancient towers, lakes, forests and other amazing scenic spots beyond your imagination. After going through the famous 'ecological forest' in Firth Forest, the first sight you will see is the high-rising Crystal City. There you can have a close contact with those figures of ancient Greek myths in Aegean Sea. Recall the glorious Maya and their scattered huge stone pillars. Enjoy the happiness of simple life in dreamy Shangri-la. Wake up the child within you, and love for nature in Ant Kingdom. It will fully satisfy your desire and curiosity.

Thematic Leisure Activities
Pop Music Festival: The super band is creating a grand music ceremony for you. Surrender to those deafening rhythms, marvelous sounds and hot dances that can easily arouse your excitement.

Maximal Exercise Festival: Your eyes will be feasted on all sorts of performance. It's a most exciting and healthy festival of praising youth. Don't hesitate to take part in the latest crazes from skateboards to bicycle riding. It's up to you!

Chinese New Year: You will be attracted by every splendid program in this riotous atmosphere. Performances with strong ethnic flavor will bring a fantastic visionary taste.

Water-Splashing Festival: Water symbolizes luck and wealth. On Water-Splashing Festival, people sprinkle water onto each other as a unique way to express their good wish. Come here and enjoy the cool and happy moment.

International Magic Day: Magicians of the first rank from all over the world present distinct magic tricks for you. Keep your eyes on this magical world full of suspension.After the park we will go to watch the golden mask dynasty show.
The tour  price is including the car and driver service, there are three types of vehicles :
1.    Car for 1 to 2 clients
2.    Van for 3 to 5 clients
3.    Van for 6 to 10 clients
We are preparing different type of vehicles based on how many of you when you purchase our tour. The picture of cars below is just an example.

Each element of the tour can be tailored to your individual needs, so please get in touch with your advisor via 1935990176
@QQ.com
  if you would like to make any changes to the itinerary.
What's Included
Domestic transportation as detailed in the itinerary
Private English-speaking guide 
Experienced Chinese-speaking driver and quality, air-conditioned vehicle
Admission tickets to all sights listed on the itinerary – no hidden costs
Free bottled water supplied in your vehicle
Lunch and dinner as specified in quality local restaurants
Ticket(s) of Golden Mask Dynasty Show
A massage, original price of which is 44 dollars per person. 
What's Not Included
International flights to and from China
International travel insurance (you should purchase your own policy in your home country)
Accommodation - if you want us to book hotels for you, please let your advisor know either via email: 1935990176@QQ.com or add customized requirement while you purchase our tours.
Tips for your guide and driver
Other personal expenses

Notes:
The one day tour price is for 8 hours a day, every 2 hours extra will be charged 30 US dollars per person.
Meals may change based on the time and location. You can also ask your guide to change your meals. We will try our best to help you enjoy a variety of Chinese food.