1.Jinhaihu Lake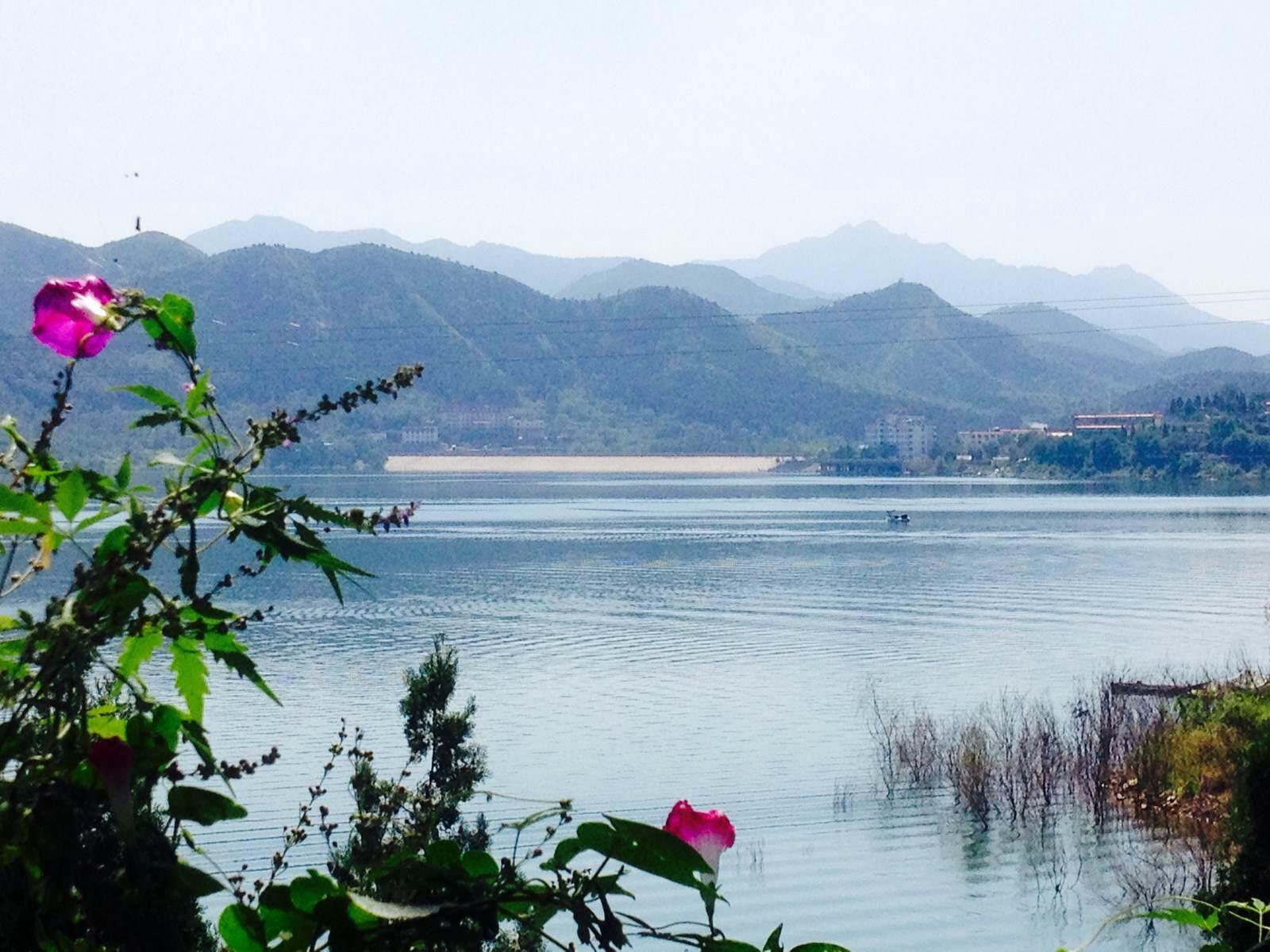 Jinhaihu Lake is located 85 km northeast of Beijing urban area, with a water area of 6.5 square kilometer and is the largest water entertainment complex of the Beijing area, and is now a national AAAA level scenic spot.
Jinhaiu is surrounded by mountains in three sides, with dozens of beautiful cultural and natural scenic spots such as Lake Tower, Golden Princess Tomb, Wanghaiting Pillion, and Jagged Cliffs. With its wide waters, Jinhaihu Lake is an ideal place for water entertainment. There are here more than 20 types of entertainment programs such as tour boats, speedboats, self-driving boats, watercraft, Jinhai strop, water flying umbrellas, pedalos, canoeing, beetle sports cars.
    In 1990 the Rowing and canoeing matches of the Eleventh Asian Games were successfully held here, and the Chinese team won 24 medals of the total of 27. And after that, two National Youth Canoeing and Rowing Championships were successfully organized ere. In 2002, Air Prince – Adili broke the world record here.
    The Jinhaihu Lake is close to Jingdong Grand Canyon, Jingdong Grand Cave, Hudong Water,Shilin Gorge, Shilin Pea, Laoxiangsan Mountain, Pansan Mountain Eastern Qing Tombs and many other scenic spots. With dozens of high, medium and low level hotels and restaurants are sited in the Jinhaihu Lake area, it is an ideal site for recreation, vacation, meeting, sightseeing for Beijing, Tianjin, and Hebei people.
2.Jingdong Grand Canyon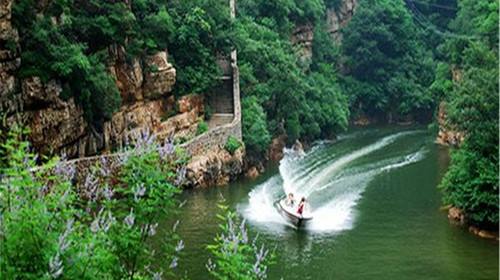 Jingdong Grand Canyon covers nearly 1,500 acres (about 6 square kilometers). It is located to the north of Yuzi Village, Pinggu District, 53 miles (about 85 kilometers) from downtown Beijing. And it includes Grand Canyon and Jingtai Mountain Scenic Area.

Jingdong Grand Canyon stands out for its steep mountains and deep valleys. It provides visitors with a wide range of beautiful landscapes. Inside it are green hills, clear waters, Karst caves, deep ponds, wide valleys, perilous peaks and plunging waterfalls. Hundreds of hectares of pine trees grow in it.

Scenic spots are mainly as follows: the Wulong Pond, also called Deep Ponds of Five Dragons, Tongtian Gorge which gets the name for its heaven-reaching height, the Plank Roads, Longmen Lake (Lake of Dragon Gate), the Memorial of the Sino-Japanese War and Holiday Village.

The Wulong Pond actually is made up of five ponds in total, each having its unique shape with a vivid name. The Tongtian Gorge looks like a long slit, a heaven-reaching peak split by an earthquake. The Plank Roads are held up by shaky steel cables. Walking on these plank roads is either terrifying or thrilling. Longmen Lake is a place where visitors can wade at the water edge and go boating. The Memorial of the Sino-Japanese War was opened in 1998. It exhibits objects and photos to show that how the armed forces and the civilians fought against the invading Japanese Imperial Army. Holiday Village is a well-equipped rest place for visitors. It has more than one hundred beds, a dance hall, and a dining room which can accommodate 250 guests.

Moreover, the entertainment items in Jingdong Grand Canyon Scenic Area are adventurous and exciting. The Scenery Aerial Tramway is 1,100 yards (about 1,000 meters) in length, by which visitors can overlook the whole scenery of it. Walking on the plank roads that link two cliffs will be a thrill for many. There is even a facility for the brave to walk on the high wire. Moreover, a harvest celebration is held in Jingdong Grand Canyon Scenic Area from July to October every year. Visitors can pick apricots, apples, pears and hawthorns by themselves.

Furthermore, there are many attractions nearby. Panshan Mountain is to its south. To the east of it lie Huangyaguan Great Wall, Wuling Mountain and Dule Temple. Dule Temple is also known as Temple of Solitary Joy, and it is one of the only three remaining temples of the Liao Dynasty (907A.D-1125 A.D).

3.Shilinxia (stone forest gorge)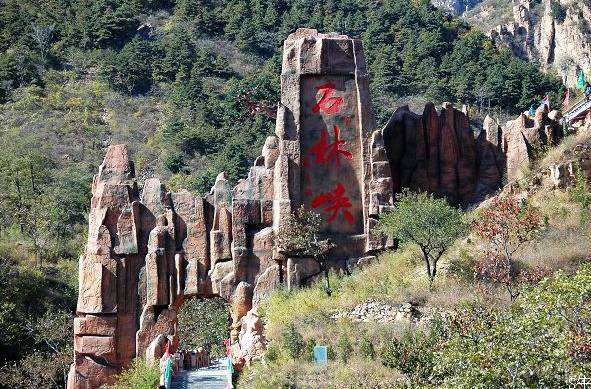 Plan your Beijing excursion to escape the bustle and hustle of city life? The Shilinxia Scenic Area (石林峡) is a good destination out of Beijing city to touch the unique stone ans rock formations in a 6-km long valley or gorge. "Shilinxia" literally means "stone forest gorge".

The gorge is located in Diaowo Village at Huangsongyu Township of Pinggu District, 100km east of Beijing city proper. Besides its official name as "Shilinxia Scenic Area", it also has several different names such as "Jingdong Stone Forest Gorge", "Pinggu Stone Forest Gorge" and "Jingdong Stone Canyon".

The Shilinxia Scenic Area is only 10km to the north of Jingdong Karst Cave, both of which are part of Pinggu Huangsongyu National Geopark. Many travelers would like to put the two attractions together on a day trip. To get to the Shilinxia Scenic Area.

Travel Tips:
Smoking, campfires and barbecues are forbidden in the scenic area. Just follow the road sign and keep from unmarked areas.

The rocks in the Shilinxia Scenic Area is composed of marine sedimentary sandstones that dates back to 1.9 billion years ago. At that time, the canyon or the gorge was just a crystal basement consisting of metamorphic rocks.

Then like the whole area of Beijing, this area was attacked for the first time by the sea transgression in the history of geology, which lasted one billion years. As a result, the sedimentary rock like the sandstones came into being.

The sandstones in the Shilinxia was formed under a coastal environment. Well, follow me and enter the Shilinxia Scenic Area.

At the entrance, there is a signboard with a brief introduction to the Shilinxia Scenic Area and its 1 and half hour travel route.

To walk close to the entrance to the Shilinxia Scenic Area, you have to cross over a stone bridge leading to the final entrance.

What's Included
Domestic transportation as detailed in the itinerary
Private English-speaking guide 
Experienced Chinese-speaking driver and quality, air-conditioned vehicle
Admission tickets to all sights listed on the itinerary – no hidden costs
Free bottled water supplied in your vehicle
Meals as specified in quality local restaurants
What's Not Included
International flights to and from China
International travel insurance (you should purchase your own policy in your home country)
Accommodation - if you want us to book hotels for you, please let your advisor know either via email: 1935990176@QQcom or add customized requirement while you purchase our tours.
Tips for your guide and driver
Other personal expenses

Notes:
This tour price is for two persons,and the one day tour price is for 8 hours a day, every 2 hours extra will be charged 30 US dollars per person.
Meals may change based on the time and location. You can also ask your guide to change your meals. We will try our best to help you enjoy a variety of Chinese food.