1.Fahai Temple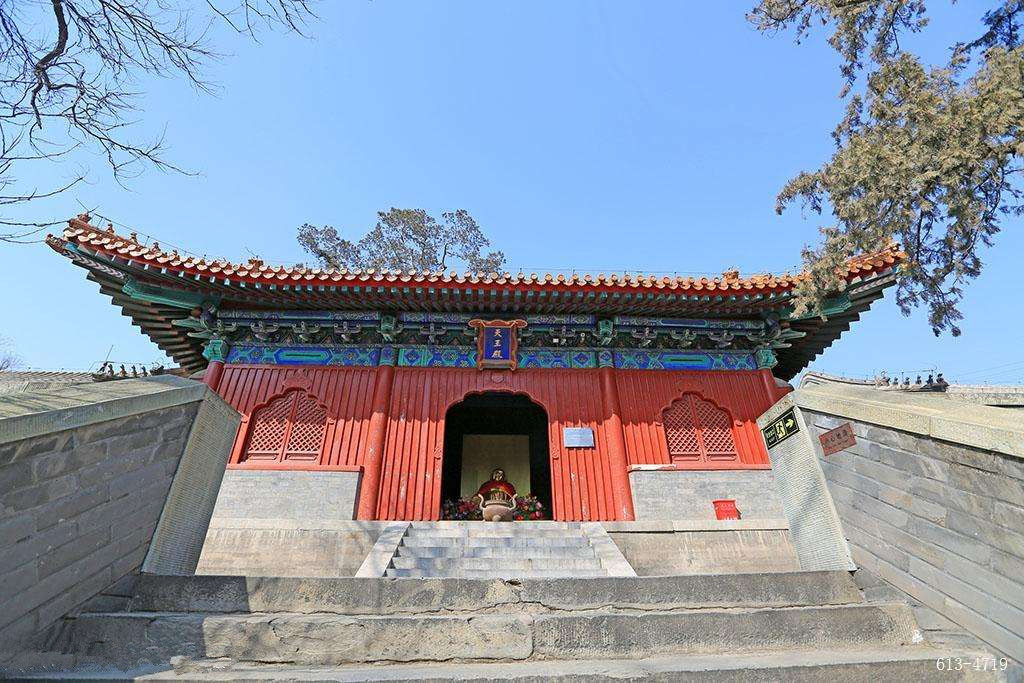 In the western suburbs of Beijing, is known for the ten large and well-preserved murals in its main hall, and bronze bell. This artwork presents the Ming Dynasty's best murals. Fahai Temple is among the most beautiful attractions in Beijing as it shows off history, art, and natural scenery.

Fahai Temple History
Fahai Temple was first built in 1439. It was created through the efforts of the Board of Works in the Ming Dynasty. At that time, Li Tong was the Ming Emperor's favorite official eunuch. He raised the funds in order to construct the temple. The construction was completed in 1443, and Emperor Yingzong named it the Fahai Zen Temple. However, it is now known as the Fahai Temple.

The temple is built on three terraces and the stele of the temple was inscribed by Emperor Zhu Qizhen, making it one of the more famous Beijing temples.

The original temple design had a main hall and four ancillary halls. It also used to have a bell and drum tower with several supplementary rooms. The entire temple was adorned with large-sized murals and many other decorations. At present, only a few side rooms, the main hall and some murals have survived. This is why the remaining pieces have become more valuable today.

The frescoes cover over 230 square meters of space in the temple and are remarkably well preserved, due to the quality of paint used by the original artists and because of the efforts of the caretakers to not allow natural light to degrade the artwork. Three frescoes depict different meetings of Buddhist deities and were painted by the most renowned artists of the Ming Dynasty.The frescoes are compared to those of the European Renaissance due to the meticulous painting and fine detail of the brush work.

Much of the temple was destroyed by a fire at the end of the twentieth century and local government is investing significant amounts of money to ensure restoration.

Fahai Temple Art
Historians say that the murals were created by remarkable artists. They were recruited from all over China and worked under the supervision of famous court painters. The remaining murals are considered to be the best preserved art pieces from the Ming Dynasty in China. They covered 236.7 square meters of the main hall and are distributed on the eastern, western and rear walls.

Art experts and historians are amazed at how well these art pieces are preserved. They were created more than 500 years ago, but they still remain intact, bright and fresh-looking. This could be because the special mineral pigments used look even better over time. These murals create sophistication and grandeur in the temple.

The paintings include 77 figures that depict the splendid gathering of the Bodhisattvas. Every figure looks different, but their spirits are unified. The murals show a religious occasion that denotes a link between beliefs and morals. The brushwork is very impressive. The painters made sure that every small detail is as perfect as possible.

Experts and art enthusiasts from all over the world are stunned by how the paintings were done. The painters employed unique techniques. Females look gentle and soft while males are truly robust. This precious artwork has been compared to its western rivals. Most experts agree that the masterpieces found in Fahai Temple are among the best murals in the world.

Fahai Temple Today
Many travelers agree that the artwork in Fahai Temple is unique in its own right and far better than the murals found in Dunhuang and Yongle Palace. Indeed, Fahai Temple is a great place for people who have a passion for Chinese art and history. The government has been preserving precious items to ensure that they stay another 500 years or more. They also invested a large amount of money to restore the entire temple.

Beijing's Bureau of Cultural Relics allotted $1.2 million to save Fahai Temple's Hall of Buddhist Scriptures and the Doctor Hall. The organization will preserve all the original murals as a part of Beijing's relic protection program. Fahai Temple is open for visitors every day. However, opening and closing times may vary depending on the season.

Visiting Fahai Temple
The temple is located in Fahaisi Forest Park at the base of Cuiwei Mountain, 26 kilometers west of Beijing's city center. 

Most visitors who come to Fahai Temple have a great interest in Chinese history and art. They are given the chance to take a closer look at authentic pieces. There are video programs prepared for them about Ming Dynasty murals. There is an admission fee for visitors with different rates for students and adults.

Open daily from 9:00 to 16:30 during the winter months and 9:00 to 17:00 in the summer.
If you don't mind paying 100 yuan, an English-speaking guide can show you around and give you a detailed history of the temple and its artwork. If you are not interested in seeing the frescoes, entrance to the temple is 20 yuan.

For nature lovers, be sure to also have the guide show you the thousand year old white bark pine trees at the temple after the tour. If the weather is clear, visitors may get a breathtaking view of the Western Hills and the west part of Beijing from inside the highest prayer hall.

Getting There
The best way to reach the temple is to take metro line 1 to Pingguoyuan Station and from there hire a taxi to drive you the 10 minutes to the temple. Make sure you also pay the taxi driver to wait while you tour the temple so that you have a ride back to town when you are finished.

Also you can take the bus 336, 621, or 537 from Pingguoyuan subway station to the temple.

Nearby Attractions
Badachu
the ling-guang monasteryLingguang Temple in Badachu Park
Badachu means eight great sites. Badachu Park is located on the outskirts of urban Beijing a few kilometers away from Fahai Temple. Badachu is comprised of eight Buddhist temples and nunneries. These sites are dispersed all throughout Cuiwei, Liushi and Pingpo.

Visitors can get the chance to take pictures of the ancient trees that are believed to have lived for more than six centuries. The trees still stand strong and healthy. The best time to visit Badachu and Fahai Temple is in September and October when tourists can climb the mountains after visiting the temples.

Tianyi Tomb
For the history buffs, the tomb of the Eunuch Tian Yi is just a 20 minute walk away. If you make this walk on a weekend, you will pass through a lovely local market where you can interact with locals and get a glimpse of the more rural Chinese lifestyle.

Tianyi Tomb or Eunuch Tomb is another interesting place to drop by when visiting Fahai Temple as it is only about 500 meters away. Tianyi Tomb contains a wealth of stone carvings. The amazing tomb is carved with white marble. This includes the graves and pavilions. The gate is guarded by civil and military officers. The entrance also has an extraordinary design. There is a lying lion embossed on both sides of the gate.

Restaurants
Fahai Temple is just 2 kilometers north of Moshikou. Around Moshikou you'll find a handful of homey restaurants such as Mingweiming Cake House, Chengdu Food and Xiangman Jinxi Hot Pot.

Natural Scenery
For nature lovers, Jinding Mountain is less than 3 kilometers away and Yongding River is less than 5 kilometers to the west.
2.Tianyi's Tomb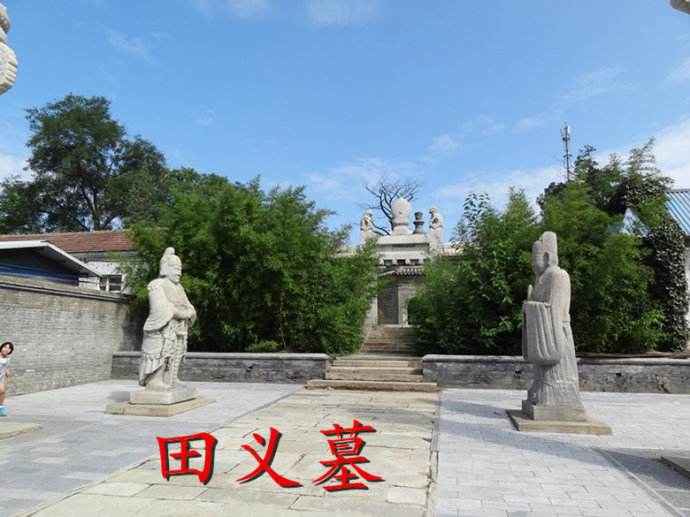 Tianyi's Tomb (Tianyimu) is the largest eunuch tomb complex in the Beijing region. Only 20 km from Beijing, it is picturesque and majestic, replete with sculptures, marble edifices and decorated causeways. While primarily dedicated to Tianyi, a prominent servant of the Wanli Emperor during the Ming Dynasty, it also holds memorials to other eunuch servants, making the locale rich in art and spirituality.

With grave complexes eerily similar to those of China's greatest emperors, it should be noted that Tianyi's eunuch temple is only majestic because of the admiration of him that lived on after his death. Lesser eunuchs asked to be buried near Tian when they died, and so the area became a complex.

The Significance of Tianyi Tomb
The myriad dynasties of China left behind many tombs, some of which have largely been forgotten. One of these is Tianyi Tomb, or "The Eunuch Tomb." A quiet location with many impressive marble structures, the Eunuch Tomb is all the more remarkable due to its low tourism rates, an appealing feature that ensures a peaceful and reflective visit.

One of the only tombs dedicated to a eunuch, Tianyi Tomb (locally known as Cixiangan or Shixiangluan) is easy to get to and fun to explore. The short hike between tombs will keep you moving and active, and the rich history of the place surrounds travelers. With resplendent archways and plenty of photo-worthy statues and groves, this is a visit you will remember.

Location
Tianyi Tomb is located off the west side of Beijing, . At a mere 20 km from the city itself, it's a convenient location to visit while avoiding the overcrowded nature of many other tourism sites.

500 meters away is Fahai Temple, another historic destination and a center of Buddhism in the area. Be sure to stop by this location if you're interested in expanding your knowledge of Buddhist tradition and life.

Getting to Tianyi Tomb is simple with a rental car or cab, if you don't mind the charge. The scenic trip through outer Beijing is sure to enchant as well, adding to your journey.

Many Beijing downtown buses pass through the region; however, none stop at the tombs. Be sure to bring some rations, as well -- the Eunuch Temple, unlike most of Beijing, has no prominent local hotels or restaurants.

History
In ancient China, an emperor's esteem was of universal importance. Those favored by the dynasty of their time enjoyed incredible wealth, power and privilege. However, to earn this respect, one had to be a loyal and devout servant of the royalty.

In the eunuch Tian's time, the ruling elite was the Ming dynasty, most specifically the Wanli Emperor.

Tian was unique among the Wanli Emperor's servants in that he was an exemplar of good taste, impartiality, and most importantly strict loyalty. In an age when courtesans could rarely be trusted, Tian was a rock of morality who rarely took sides and always considered the needs of his Emperor before himself. This personal conduct earned him the admiration of the emperor despite being a eunuch.

When Tian passed, the Emperor was supposedly so despondent that he ceased all official functions for three days. Given how vital his role was to feudal society, this was a very significant event. In displaying this connection of grief, the Wanli Emperor both exhibited how important Tian had been to him, and had also reconnected with his people once more.

Palace servant or not, Tian had been a common man, and to see the Emperor in tears over his passing helped reaffirm the people's faith in the dynasty. Tian Yi's posthumous reputation was a model for those who came after him, helping to pave the way for the complex social structures China enjoys today.

3.Beijing Shijingshan Amusement Park
Beijing Shijingshan Amusement Park is a theme park located in the Shijingshan District of Beijing, it first opened on September 28, 1986.
The park that imitates Disney Park, its previous slogan in English was "Disneyland is too far away, please come Beijing shijingshan Amusement Park". It is a quintessential European park.
There crawled with tourists everyday, because it is the largest park in Beijing. My mother used to worked in the park, and she has retired.
What's Included
Domestic transportation as detailed in the itinerary
Private English-speaking guide 
Experienced Chinese-speaking driver and quality, air-conditioned vehicle
Admission tickets to all sights listed on the itinerary – no hidden costs
Free bottled water supplied in your vehicle
Meals as specified in quality local restaurants
What's Not Included
International flights to and from China
International travel insurance (you should purchase your own policy in your home country)
Accommodation - if you want us to book hotels for you, please let your advisor know either via email: 1935990176@QQcom or add customized requirement while you purchase our tours.
Tips for your guide and driver
Other personal expenses

Notes:
This tour price is for two persons,and the one day tour price is for 8 hours a day, every 2 hours extra will be charged 30 US dollars per person.
Meals may change based on the time and location. You can also ask your guide to change your meals. We will try our best to help you enjoy a variety of Chinese food.