Itinerary order:
1.China Science and Technology Museum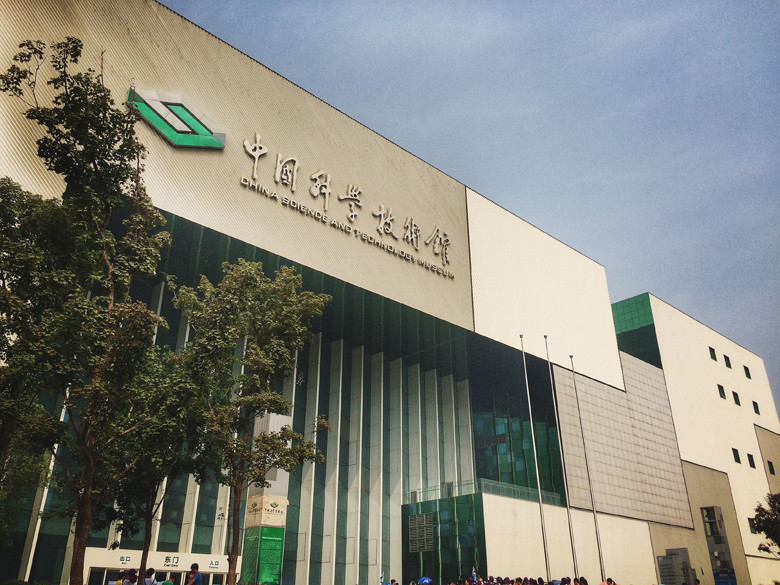 Located at No.5, East Beichen Road of Chaoyang District in Beijing, the China Science and Technology Museum lies to the north of the National Stadium in the central part of Olympic Park. First opened in 1988, it is the only state-level comprehensive science and technology museum in China. With the establishment of the new exhibition building in 2009, the museum now has four floors. It shows the new trends in science and technology on various applications, including aerospace, energy, transport, materials and machines, information technology and environment. Through colorful exhibits, interactive activities, interesting experiments and hi-tech films, visitors can easily understand some of the scientific theories and technology applications. The museum is now considered an important facility to popularize science and improve citizen's science literacy and ability to innovate.

The museum consists of not only the five permanent exhibition halls, including 'Science Paradise' located on the first floor in the northwest area, 'Glory of China' on the first floor, 'Exploration and Discovery' on the second floor, 'Sci-tech and Life' on the third floor, and 'Challenge and Future' on the fourth floor,  but also a short-term exhibition hall, and four special-effect theaters: Dome Theater, Huge-screen Theater, Motion Theater and 4D Theater. In addition, many laboratories, classrooms, science popularization lecture halls and multifunctional halls are found in the museum.

Science Paradise Hall
This hall is an attractive place for children who like science and hands-on activities where they can have great fun. It comprises seven theme exhibition areas: Happy Farm, Cheerful Water Bay, Science Castle, Exploring Mountains, Safety Island, Performance Scene and Hands-on Activities, with a total area of 3,800 square meters (40,896 square feet). It is set up for three-to-eight-year-old children, aiming at inspiring their interest in science in various educational ways, including games, discussions and interaction.
 
Glory of China Hall
This hall showcases the significant accomplishments of ancient China in science and technology, which play an important role in promoting Chinese social progress and world civilization. This hall is divided into five sections. Introduction Hall helps guide visitors to know ancient China. There are two main exhibitions: Taosi Observatory, a part of Taosi Site in the middle reaches of the Yellow River in ancient China, and bronze embossments of scientists in ancient China. Technological Innovation of Ancient China displays some critical inventions and technological innovations in mining, agricultural technology, irrigation machinery, textile, architecture and navigation. The major exhibitions are Tonglushan mining, Zigong salt wells, various agricultural machinery, weaving machines, palaces, residences, urban planning, vehicles and advanced navigation technology. Scientific Exploration of Ancient China boasts noted achievements made by intelligent and hardworking Chinese people in several areas. There you can see Chinese acupuncture, an armillary sphere, a star map, a seismograph, a model of the Dujiangyan Irrigation Project, ancient musical instruments and light-penetrating mirrors. Exchange between China and the World Civilization introduces advanced Chinese inventions spreading into the world, especially 'four great inventions': papermaking, printing, gunpowder, compass. 'Hands-on Space' is a very interesting place where visitors can participate in woodblock printing and paper making using ancient methods.
 
Exploration and Discovery Hall
Exploration and discovery is a lasting theme in the process of human civilization. This hall focuses on scientific exploration in many areas: the origin of the universe, microscopic matter, natural phenomenon such as motion, sound, light and electricity, life and math. It displays the wonder and mystery of science and helps visitors experience the joy brought by exploration and discovery. The hall is made up of A Hall and B Hall with an exhibition area of 5,000 square meters (5,979 square yards) and eight theme exhibition sections--Miraculous Universe, Subtle Material, Mysterious Life, Law of Motion, Rhyme of Sound, Brilliance of Light, Magnetism and Lure of Science.
 
Sci-tech and Life Hall
This hall exhibits the development of sci-tech in agriculture, health, housing, information exchange, transportation and machines which are inextricably bound to the ordinary life of people. It is science and technology that make a more convenient and better life for us. This hall consists of six sections, including Source of Our Daily Life, Healthy Life, Household, Information and Traffic, and Smart Tools and Machinery.
 
Challenge and Future Hall
This hall has an area of 5,100 square meters (6,099 square yards). It concentrates on some crucial issues and challenges that human beings face. It shows the contributions made by technological innovation and imagines the future. Meanwhile it guides visitors to keep their eyes on and recognize the problems of technological development. The hall is divided into seven sections: About the Earth, Energy World, New Material, Genes and Life, Ocean Development, Space Exploration and About the Future. It contains 138 exhibitions. Even visitors can personally conduct some projects, for example, making a model of the Tibetan Plateau or imitating astronauts.
 
Four Special-effect Theaters
Motion Theater is equipped with three groups of movable seats and can hold 60 visitors. Visitors see the film sitting on six free-moving platforms. The platforms can move in concert with the film. The motion of the visitors' bodies will be in line with the plot of the film. It will provide an exciting journey. Dome Theater can hold 442 visitors and is equipped with seats for the disabled. It can be used to broadcast films and a dome planetarium show. Huge-screen Theater is one of the world's most advanced theaters. It can accommodate 632 visitors. The screen is 29.85 meters (97 feet) wide and 22 meters (72 feet) high. 4D Theater adopts 4D special-effects, based on the three-dimension film itself, together with environmental special-effects. It integrates listening, seeing, smelling and touching for the visitors and makes people feel part of the scene.
And outside view Beijing National Stadium(Bird's Nest) and Beijing national aquatics center (Water Cube) in the National Olympic Park.
2.China Ancient Animal Museum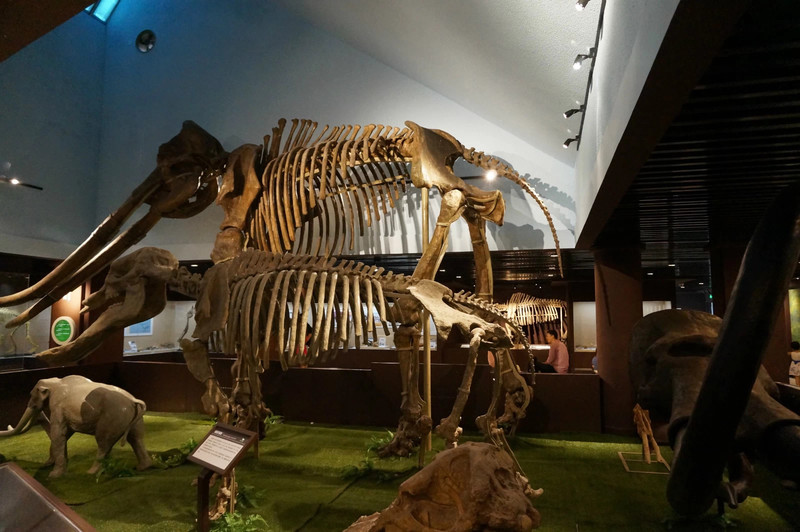 China Ancient Animal Museum of Vertebrate Paleontology Museum was founded in October 1994, December 1995 opening. The museum consists of three layers three exhibition halls. The first layer of the ancient fish-shaped animals and ancient amphibians exhibition showcases a variety of jawless, fish and amphibians fossil specimens, including the Comoros government donated called " living fossil" Ladi Mai fish specimens, this is the main building of a collection of treasures, but also the only domestic fifty-six the best preserved specimens of one individual. In the middle layer and the second floor has a huge interlinked " dinosaur exhibition pool", displaying a representative of several large Chinese dinosaur skeletons, including China's largest and the world's longest neck dinosaur - - up to 22 meters mamenchisaurus, its neck had nine meters long. The second layer of the ancient reptiles and birds, exhibition hall, including the ancient dinosaurs, dinosaur eggs, pterosaurs, ichthyosaurs, crocodiles, turtles, including a variety of ancient reptiles and Confucius bird, ostrich and other ancient birds Angle precious specimens. Where the second floor of the south " dinosaur corridor " in the first exhibits - Hsu Lufengosaur fossil skeleton known as " China First Dragon ", which is found in the earliest times of the dinosaurs (living in 200 million years former Yunnan), but also China's first pallet dinosaur (1941 in Chongqing Beibei cage), by the Chinese Academy of vertebrate Paleontology founder Yang Zhongjian research, the specimen has thus become the museum 's greatest treasures. In the northeast corner of the second floor, the museum exhibited the latest with a feathered dinosaur fossils - Dong Long tail, which is a known for its world -class treasures fossils, who retains clear traces of feathers. Dinosaurs had feathers, which is China scholars latest paleontological discoveries that shocked the world ; the specimen has repeatedly exhibited abroad, Beijing tours attracted domestic and foreign scholars and audiences of great interest. The third floor gallery features a variety of ancient mammals, ancient mammal specimens and skeleton, including the well-known majestic towering like a giant skeleton of the Yellow River, it has nearly four meters high, was the tallest land animal, is written in Primary School "language" fifth-grade textbooks, viewers can glance at this true capacity.
Museum of Vertebrate Paleontology each have their own a few tens of meters long giant launched by the wall paintings were drawn " Paleozoic marine and terrestrial ", " Mesozoic dinosaur world", " a new generation of mammalian homeland " and other three theme, showing all produced from Chinese geological age of Vertebrate Paleontology and communities face unique natural landscape ecology. China Ancient Animal Museum Hall Tree Chinese ancient human was completed and opened in 1999, through the exhibition of ancient human fossils and Paleolithic specimens and model systems of human origin and evolution of universal scientific knowledge, has demonstrated coexistence of man and nature science topics. Includes remarkable gift of Peking Man skull and abroad all kinds of precious ancient human fossil specimens and models, as well as humans have used a variety of stone and bone.
3.Beijing Museum of Natural History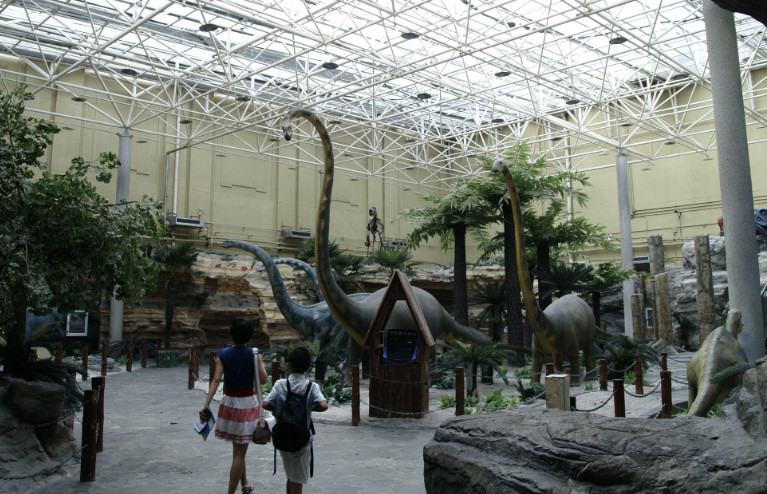 Museum of Natural History Beijing Museum of Natural History is located on Tianqiao South Street in Dongcheng District. It was the first comprehensive museum of natural science in China and was formally opened on Oct. 1st, 1959. It is mainly engaged in specimen collection, scientific research and science popularization work in the fields of paleontology, zoology, botany, anthropology and others. More than a hundred thousand artifacts, fossils and specimens are reserved in Beijing Museum of Natural History, and the number of complete large ancient mammal fossils ranks it the second in the world. Among all the specimens and fossils, that of the Stegodon zdanskyi (a kind of ancient elephant) is the most famous and precious..
 
Permanent Exhibitions
Going straight ahead after entering Beijing Museum of Natural History, one would come to the Gallery of Ancient Reptiles and Dinosaurs. Here are exhibited the mamenchisaurus (a species of dinosaur), the largest sauropod dinosaur fossil discovered in China, and the Lufengosaurus huenei Young - the first dinosaur fossil discovered by Chinese scientists.

Having seen the giant dinosaur skeleton and learned about the evolution of ancient reptiles, visitors can head to the Gallery of Ancient Mammals, situated on the left of the entrance. Audiences can see the Stegodon zdanskyi, which is the most complete skeleton of a stegodon ever found in the world. The skeleton was found near the Yellow River, so it is also called the Yellow River Stegodon. Apart from the skeleton, audiences can see the earliest angiosperms fossil - the Archaefructus liaoningensis, the earliest known flowering plant.

Passing through the Ancient Mammal Gallery, visitors can enter the Origin of Life Gallery and the Prosperity of Ancient Invertebrates. This gallery reproduces the rich environment of the ocean of 530 million years ago and displays a comprehensive history of ancient invertebrates. The complex evolution is presented through plenty of fossils. The abundant ancient animal fossils of the Jehol Biota, especially the hairy fossils of dinosaurs, discovered in western Liaoning Province, would be the best attraction.

After finishing the visit in the Origin of Life and the Prosperity of Ancient Invertebrates Gallery, one can go upstairs and visit the Plant Kingdom, where one can get to understand the evolution from prehistoric extinct plants to modern plants. There are some interactive activities. For instance, audiences can see the whole process of flowers sprouting, growing and blossoming all through the push of a button. Through these changing perspectives, one can also see the changes of the seasons.

After leaving the Plant Kingdom exhibition, going straight ahead one enters the Beauty of Animals Gallery. The exhibits here are based on the invaluable animal specimens donated by Mr. Kenneth E. Behring. By the use of new technologies, it reproduces the natural habitat and exhibits typical wild animal specimens of Africa, North America and Eurasia.

Going downstairs from the Beauty of Animals Gallery, the last part of permanent exhibitions is right in front of you, the gallery of Animals -- the Friends of Human Beings. The basic animal exhibits including six thematic units: Preface (Biodiversity), Invertebrates, Fish, Amphibian, Animal Protection and the Insects' World. The most important part is the Insects' World. This gallery introduces the colorful insects' world by various kinds of fossils and specimens.

Temporary Exhibitions
Beijing Museum of Natural History also holds some temporary exhibitions every year. Most of them focus on dinosaurs, plants, animals, and environment protection.

What's Included
Domestic transportation as detailed in the itinerary
Private English-speaking guide 
Experienced Chinese-speaking driver and quality, air-conditioned vehicle
Admission tickets to all sights listed on the itinerary – no hidden costs
Free bottled water supplied in your vehicle
Meals as specified in quality local restaurants
What's Not Included
International flights to and from China
International travel insurance (you should purchase your own policy in your home country)
Accommodation - if you want us to book hotels for you, please let your advisor know either via email: 1935990176@QQcom or add customized requirement while you purchase our tours.
Tips for your guide and driver
Other personal expenses

Notes:
This tour price is for two persons,and the one day tour price is for 8 hours a day, every 2 hours extra will be charged 30 US dollars per person.
Meals may change based on the time and location. You can also ask your guide to change your meals. We will try our best to help you enjoy a variety of Chinese food.