Tour Itinerary:
Pick up at your hotel in Beijing 9 am for instance.Then drive to visit Chengde Mountain Resort 
Chengde Mountain Resort
Imperial Mountain Resort in Chengdu used to be the resort of emperors of Qing Dynasty. Situated in the city of Chengde in northeastern Hebei Province, about 200 kilometers from Beijing, the resort is easily accessible by either train or long-distance bus. Its constructions started in 1703and took 89 years to complete. It is regarded as one of China's four famous gardens, and the other three are Summer Palace in Beijing, Humble Administrator's Garden and Lingering Garden in Suzhou. 

Surrounded by lakes, forest and mountains, it is China's largest existing imperial garden and the former summer capital of the Qing dynasty, covering an area of 5.64 million square meters. The size of Chengde Summer resort is as big as the Forbidden City and the Summer Palace combined. The 10-km-long wall around it winds its way through plains and high mountains like the Great Wall. 

The magnificent resort and the 12 Buddhist temples at its periphery were built during the Qing Dynasty, the last feudal Chinese dynasty. It served as the second political center of the Qing imperial court and the emperors of the early Qing Dynasty often spent their summers there, conducting state affairs and engaging in important political activities. The Resort and its outer temples and palaces have made Chengde a famous historical and cultural city, and one of China's leading scenic spots. The imperial Resort was listed in the directory of the world's cultural heritages in 1994.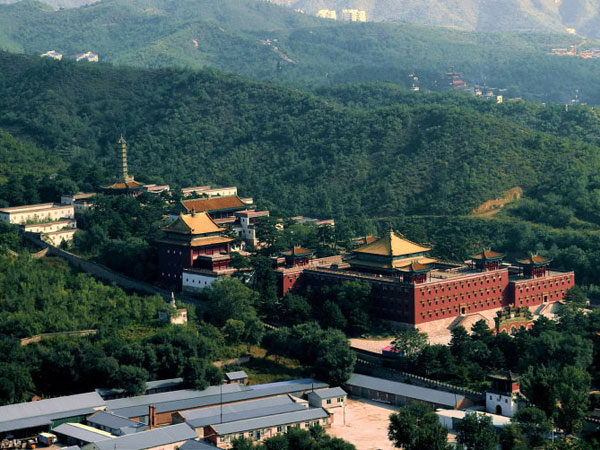 History of Chengde Mountain Resort
The construction of the Mountain Resort took place over a period of 90 years-starting from the 42nd year of Emperor Kangxi's reign (1703), rebuilt and expanded during the reign of Emperor Yongzheng and Qianlong, and completed in the 57th year of Emperor Qianlong's Reign (in 1792).

The construction of the Mountain Resort was divided into two stages. The first stage was from the fourth years of the reign of Kangxi Emperor (1703) to the fifth year of the reign of Kangxi Emperor (1713). The main job in this period was to expand the lake area, build artificial islet, building up the embankment, then construct palaces and pavilions, plant tree and wall. The mountain resort began to take shape. The second stage started from the sixth year (1741) to the nineteenth year (1754) of the reign of Emperor Qianlong. Large-scale of expansion of the resort happened during this time period. More palaces and a majority of large gardens were built. The Kangxi, Qianlong and Jiaqing emperors often spent several months a year here to escape the summer heat in the capital city of Beijing and the palace zone in the southern part of the resort was therefore designed to resemble the Forbidden City in Beijing. The Jiaqing and Xianfeng emperors both died while staying at Chengde in 1820 and 1861 respectively.

Now it generally consists of two parts: a court in front, where the emperor received high officials, nobles of various minority nationalities, and foreign envoys; and bed chambers in the rear, which were the imperial family's living quarters. As it also absorbs the arts, and style culture of many other cultural groups, especially the Tibetans, "Mountain Resort and its Outlying Temples, Chengde" was added to UNESCO's World Heritage List in 1994.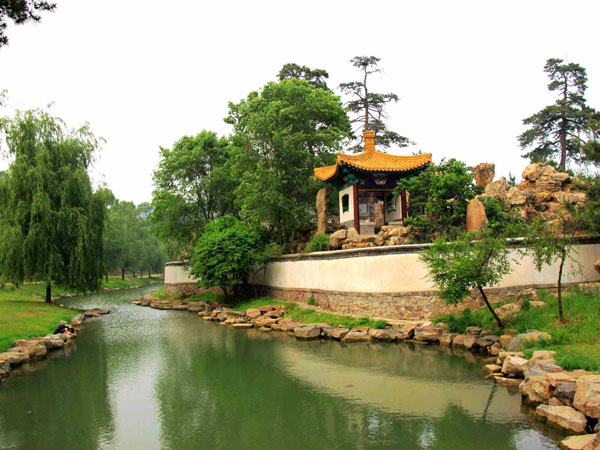 Layout of Chengde Mountain Resort
The Mountain Resort is divided into four areas, that is, Palace Area and the Lake Area in the south, Mountain Area and Plain Area in the north. Among them, Palace Area and the Lake Area in the south contain the essential view of this summer resort. 

• Palace Area
Palace Area is located in the southern of the resort, covering a total area of 102,000 square meters. Entering from the main entrance of this resort, the Palace Area will come into your eye (it is generally the first to tour). Palace Area was where emperors of Qing Dynasty conducted state affairs, engaged in important political activities, held the vital ceremony and had daily living. For the mountain resort was used as a meeting place to receive foreign guests, so it was built with very high specification. And in order to show traditional Chinese virtues of modesty and frugalness to foreign guests, the overall layout of the resort seems simple and generous. but to shoe the glory of imperial resort, most of construction materials were very rare. For example, the core architecture Zhangbojincheng "澹泊敬诚"was constructed with precious Phoebe zhennan, so it also got another name as Phoebe zhennan Hall. It was originally completed in 1711 and reconstructed 1754.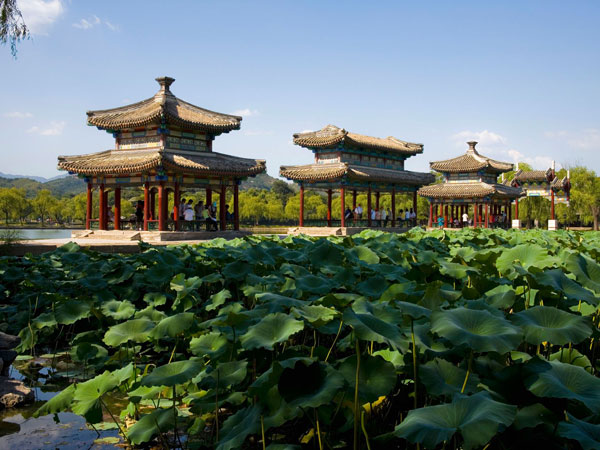 • Mountain Area
If you have enough time, you can hitch a ride to explore Mountain Area; if you have a limited time, you can give up the Mountain Area and head straight to Lake Area. Mountain Area accounts for four-fifths of the Summer Resort. It is common scene that the wealthy build large gardens or get several small rockery in their houses. But walling vast mountains to be part of a resort like this is quite rare. 
Note: each year from November to next May is the fireproof seal off season in the Mountain Area. So the Mountain Area is closed to tourists. 
• Lake Area
In north of China you can see lake area decorated with pavilions and corridors in a imperial resort, because Emperor Kangxi and Qianlong preferred to south-China architecture style (which is famous for architecture combined with water features.
• Plain Area

Plain Area is sited between Mountain Area and Lake Area, with walking distance from the Lake Area. Plain Area is another important venue for political activities in this resort. There is a large area of glass land in Plain Area, where the emperor held a trial horse racing events; the eastern part is forest land, where there is 28 different Mongolian yurts.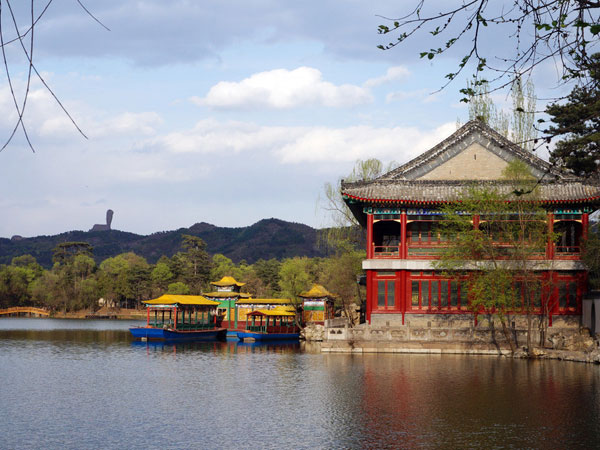 Main Attractions to See in & around the Resort
The Mountain Resort is most famous for the 72 scenic spots which were named by the Kangxi and Qianlong emperors. Many of the scenic spots around the resort's lake area were copied from famous landscaped gardens in southern China. There are more than 90 towers and pavilions scattered around the Mountain Resort as well as small bridges, inscriptions on precipices, rockeries of various sizes, many gates, horizontal inscribed boards, palaces, terraces and other buildings. You must be dazzled by so many things inside. But there are main attractions in & around the Resort that you can not miss. 

• Eight Outer Temples 
In the outlying area of the resort, 11 magnificent temples stand on the hills in a semi-circle. As they were divided into eight sections under the administration of the Beijing-based Harmony and Peace Lamasery (a monastery for lamas), they were usually referred to as the "Eight Outer Temples". But now there are only seven temples remaining intact, including Puren Temple (Universal Humanity), Xumifushou Miao (Temple of Happiness and Longevity at Mount Sumeru), Puning Temple (Temple of Universal Peace), Anyuan Temple, Pushan Temple, Putuo Zongcheng Tempke, Shuxiang Temple and Guangyuan Temple. These temples, built on the elevating hill slopes, look grand and splendid.

• Hammer (Club) Rock
Hammer Rock is sited in the east of the resort. This unusual rock formation is a hike (or RMB50 ski lift ride) up from Pule Temple. Admission includes entrance to Pule Temple as well as a visit to nearby Toad Rock. 

The landscape of the Mountain Resort and its Outlying Temples is an outstanding example of Chinese integration of buildings into the natural environment, which had and continues to have a profound influence on landscape design.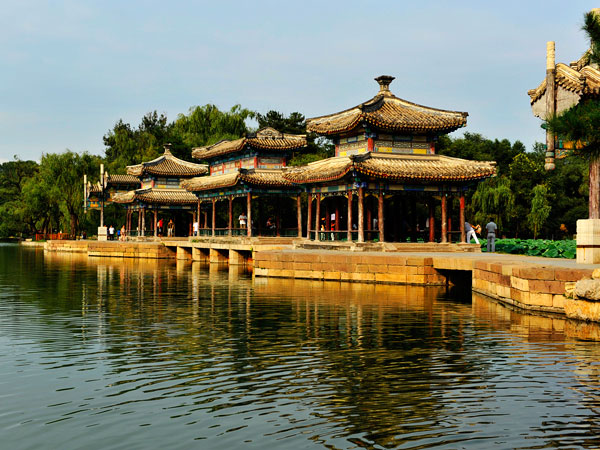 Travel Guide
【Recommended time to stay】: It is a long walk around the park. Covering the main spots would take 4-5 hours of leisurely strolling, Walking around the entire park would take the whole day. Drinks and food are extremely expensive inside, you'd better prepare some before entering the resort. 
【Best time to visit】: as this huge summer resort was used by emperors to escape the summer heat, so the best time to visit is between mid May - mid October. Although a summer resort, it would be quite crowded in July and August as many students and their parents visit the place during their vacation. However, snow clad mountains & monasteries in winter are also stunningly beautiful. Visiting in the winter especially after a snowfall is beautiful as well (and significantly cheaper), though some of the forest paths are closed during this time. During other times of year, the landscape is somewhat dreary, and doesn't make up for the construction going on during the off season.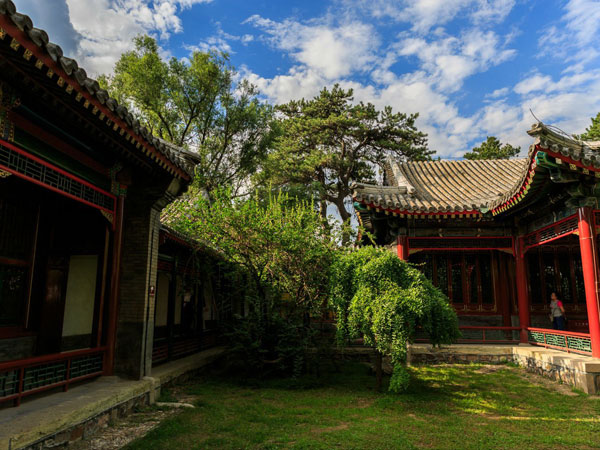 The tour  price is including the car and driver service, there are three types of vehicles :
1.    Car for 1 to 2 clients
2.    Van for 3 to 5 clients
3.    Van for 6 to 10 clients
We are preparing different type of vehicles based on how many of you when you purchase our tour. The picture of cars below is just an example.

Each element of the tour can be tailored to your individual needs, so please get in touch with your advisor via 1935990176
@QQ.com
  if you would like to make any changes to the itinerary.
What's Included
Domestic transportation as detailed in the itinerary
Private English-speaking guide 
Experienced Chinese-speaking driver and quality, air-conditioned vehicle
Mani admission ticket(s) to the sight listed on the itinerary – no hidden costs
Free bottled water supplied in your vehicle
Lunch and dinner as specified in quality local restaurants
What's Not Included
International flights to and from China
International travel insurance (you should purchase your own policy in your home country)
Accommodation - if you want us to book hotels for you, please let your advisor know either via email: 1935990176@QQ.com or add customized requirement while you purchase our tours.
Tips for your guide and driver
Other personal expenses

Notes:
The one day tour price is for 8 hours a day, every 2 hours extra will be charged 30 US dollars per person.
Meals may change based on the time and location. You can also ask your guide to change your meals. We will try our best to help you enjoy a variety of Chinese food.