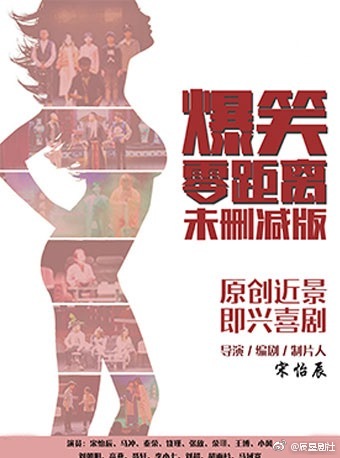 《Laugh at zero distance》
Every day there are three times of the comedy show like 13:30-14:30,15:30-16:,17:30-18:30,the show is unique in Beijing and even in China,It is super fun as everyone will say so after watching the comedy show.The price is for one person ,26.6 US Dollars per person from 7-11 rows,31.6 US Dollars per person from 4-6 rows,62.6 US Dollars per person from 13 rows,(VIP seat).

Chenxing Drama Studio is the only one close vision impromptu comedy studio in China,which was created by a theatrical paranoia who leads a group of young people who have dreams and love the stage,with development of new era and society and the popularity of movie,TV network,drama has lost its market gradually,but as we are majoring at performance ,we don't want the drama get faded,after many times of trying and talking with impromptu performers Keith Johnstone and Viola Spoli,we finally made close vision and impromptu comedy,which breaks the limitation of the stage,and makes audiences not only watch the drama but also join to play,experience on the glamour of stage and power of drama,from enjoying the show to participate in the show.
  Modern society has fast rhythm,it seems we we are facing the unpleasant problems from work,life and family pressure everyday,and the happiness appears further and further from us,when you browse online or watch TV,there are plenty of negative information of food safety,or all kinds of showing offs,which makes harder and harder to touch our hearts! We may recall and cherish the memory of our innocent childhood and the roaring laughter at that time!
  Well,recalling is not as good as meeting,drama is like life,come to Chenxing Drama Studio,sit down and feel again of moves and great laughing from those years,Chenxing Drama Studio ,a feeling of home studio!
Booking email: 1935990176@QQ.com
You can pay us via wechat:1935990176 the price for 7-11 rows is 168 RMB,the price for 4-6 rows is 198 RMB,the price for 1-3 rows VIP seat is 398 RMB,and we can meet you at your hotel and go to the theater together,but all the extra costs(taxi fare or subway train ticket) are all on your own.After the show you can take a taxi or subway back,the the theater is about 200 meters away from subway station.