Pick up at your hotel 9am for instance.
First go to the Badaling section Great Wall.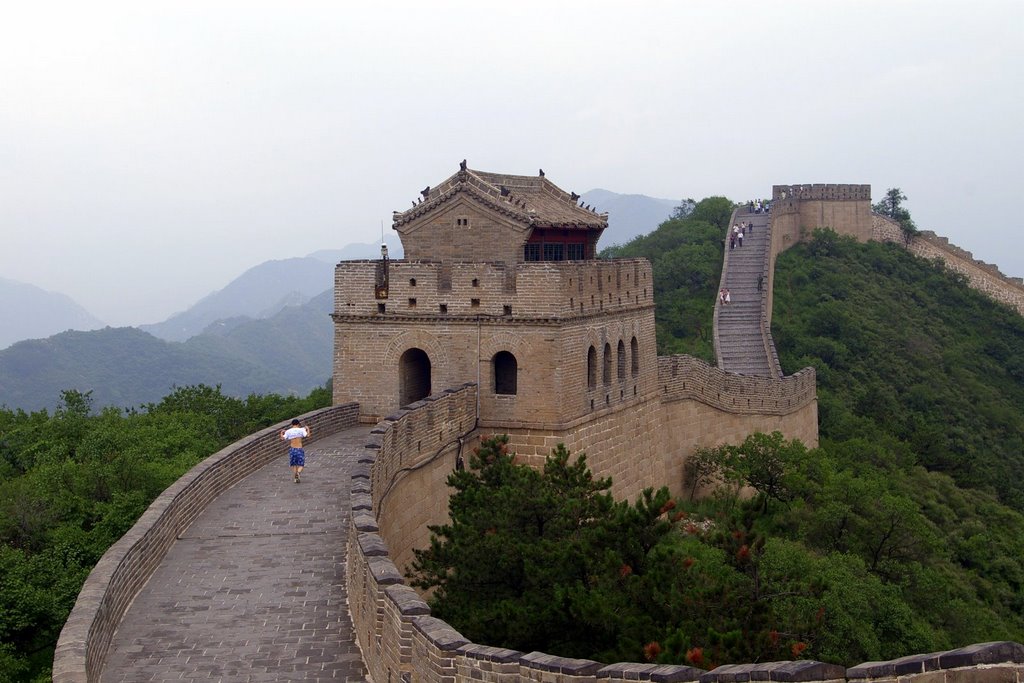 The Great Wall was built and maintained between the 7th century BC and 17th century BC. It was originally built to protect the empire from northern invaders. The Great Wall stretches through the countryside over deserts, hills and plains for 8,851.8 kilometers.
After lunch at a Chinese restaurant
Former US President Clinton and Mr.Kevin Xu
Mebo High tech company - In providing new life science research, benefiting the whole world, MEBO International possesses abundant, globalized intellectual property rights and is the operational base of MEBT/MEBO--the world-renowned regenerative medical technology for burns, wounds and ulcers. It is the leading economic entity implementing the current U.S. national policy of "developing drugs to regenerate damaged organs", the engine of regenerative life industrial chain, and the pioneering enterprise ushering humanity into the new economic world of regenerative life.
MEBO International, co-founded by Dr. Rongxiang Xu and Dr. Li Li in 1987, was originally named Beijing Guangming Traditional Chinese Medicine Institute for Burns, Wounds and Ulcers. In 1988, Moist Exposed Burn Ointment (MEBO), which was invented by Dr. Rongxiang Xu, was awarded a new drug certificate, issued by Ministry of Health of the Peoples Republic of China (PRC), and became the first new drug of Traditional Chinese Medicine approved since the implementation of the Pharmaceutical Administration Law of the PRC. Soon, MEBO combined with the revolutionary Moist Exposed Burn Therapy (MEBT) (MEBT/MEBO for short) was selected to be one of ten medical technologies promoted and popularized across the country by the Ministry of Health of the PRC during Chinese eighth five-year economic development plan.

Headquartered both in China and the United States, MEBO International has several international pharmaceutical and medical companies that focus on treating burns, wounds, ulcers and skin regeneration, not only in China and the U.S., but also in Thailand, India, and Malaysia, among others. MEBO manufacturers dozens of regenerative products utilizing self-owned intellectual property rights that include medical and health care products, nutritional supplements, cosmetics and skincare products, and medical devices. Today, over 200,000 doctors, from more than 70 countries, are applying MEBO technologies and products in over 20 treatment domains, which cured over 40 million patients afflicted with burns wounds & ulcers and achieved the in situ regenerative restoration of patients with extensive deep burns, diabetic ulcers, severed distal finger, open trauma with tissue defect, lower extremity ulcers, deep bedsores, etc.

At this time, MEBO International holds more than 40 patents in various countries and regions, such as China, America, Europe and Japan, including patents for regenerating core human organs, specifically, potential regenerative cells (PRCs) and the culture methodology, physiological tissue repair and functional organ regeneration by cultivation of regenerative stem cells in vivo and in situ. Books authored by Dr. Rongxiang Xu are included in the United States National Library of Medicine, these include:Human Body Regenerative Restoration Science, Burn Regenerative Medicine and Therapy, Blue Book of Burn Medical Technology, and The Complete Book of Burns. Additionally, the book, Burn Regenerative Medicine and Therapy, published by Karger, a famous publisher, located in Switzerland has been collected in the science libraries of dozens of top-notch universities, such as Harvard University, Princeton University, and Massachusetts Institute of Technology.

MEBO International features both basic and clinical research centers that enjoy high global prestige, such as the Beijing MEBO Institute for Burns, Wounds and Ulcers, Beijing Rongxiang Regenerative Medicine Institute, the United States Clinical Research Center, and others. After MEBO's founder, Dr. Rongxiang Xu, passed away, Kevin Xu, assumed the leadership of MEBO International, as new board chairman. His mission is to honor his father's legacy by building a series of international research, enterprises and social platforms: joining the Clinton Global Initiative(CGI) and implementing the CGI commitment of "From Urban to Rural: Training Doctors on Moist Exposed Burn Therapy(MEBT)," with the aim to train20,000 Chinese doctors on the proper use of the MEBT technology; fostered the UN "Every Woman Every Child" China Partnership Network; cooperated with the Los Angeles County Department of Health, to organize MEBT training in the Los Angeles County medical system; setting up the Rongxiang Xu Center for Regenerative Life Science at the USC Leonard Davis School of Gerontology; Successfully founding a college, integrated into California State University in Los Angeles, named the "Rongxiang Xu College of Health and Public Services" and establishing the "Rongxiang Xu Bioscience Innovation Center" within the University. Moreover, MEBO International has begun to develop multi-level, international cooperation to conduct research on the regenerative restoration of the human body to repair and regenerate damaged organs, promote its clinical application, and nurture students who exhibit aptitude in regenerative science and social leadership. Moreover, MEBO International has sponsored the National Rongxiang Xu Foundation and Chinese Red Cross Rongxiang Xu Regenerative Life Non-profit Fund, both of which are active in promoting and maintaining cooperation in international health affairs.

MEBO International is a mission-oriented enterprise fighting for human life as it employs its collection of life science technologies to benefit all of humanity. Its founder, Dr. Rongxiang Xu, made historic contributions to humanity in the related fields of burns treatment and regenerative medicine, throughout the world, laid a solid foundation for the extensive clinical application of these technologies to repair and regenerate damaged human organs, and offered a new direction for the development of a global Regenerative Life Science. Upon his passing, American President Barack Obama and former U.S Presidents Bill Clinton and George H.W. Bush, as well as other high-ranking government officials, sent letters of condolence to his family; the board of supervisors of Los Angeles Country adjourned their general assembly, especially, to commemorate his remarkable life; a screenshot titled Chinese Scientist Rongxiang Xu, MD - Father of Human Organ Regeneration was displayed in Times Square of New York City for four days,to honor his memory; and the name Rongxiang Xu was engraved on the celebrity wall of Harvard Medical School, as the first Chinese doctor to earn this honor. More info.
The tour price is including the car and driver service, there are three types of vehicles :
1. Car for 1 to 2 clients
2. Van for 3 to 5 clients
3. Van for 6 to 10 clients
We are preparing different type of vehicles based on how many of you when you purchase our tour. The picture of cars below is just an example.

Each element of the tour can be tailored to your individual needs, so please get in touch with your advisor via
1935990176@QQ.com
if you would like to make any changes to the itinerary.
What's Included
Domestic transportation as detailed in the itinerary
Private English-speaking guide
Experienced Chinese-speaking driver and quality, air-conditioned vehicle
Admission tickets to all sights listed on the itinerary – no hidden costs
Free bottled water supplied in your vehicle
Meals as specified in quality local restaurants
What's Not Included
International flights to and from China
International travel insurance (you should purchase your own policy in your home country)
Accommodation - if you want us to book hotels for you, please let your advisor know either via email: 1935990176@QQ.com or add customized requirement while you purchase our tours.
Tips for your guide and driver
Other personal expenses

Notes:
The one day tour price is for 8 hours a day, every 2 hours extra will be charged 30 US dollars per person.
Meals may change based on the time and location. You can also ask your guide to change your meals. We will try our best to help you enjoy a variety of Chinese food.
All the optional performances and massages are the original price 44 dollars one. You can also choose the show or massage separately.